Miniflex® ADSS Fiber Cable - QuikDrop™
QuikDrop™ is a combination of aerial fiber jacket, Miniflex fiber cable and SC pushable connector. QuikDrop™can dramatically reduce installation costs and time, by simplifying FTTx deployments and removing the need to splice.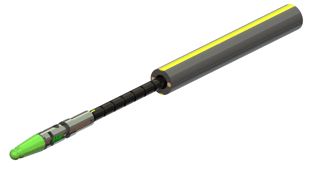 Twin fiberglass reinforced plastic strength members are embedded within the outer jacket for self-supporting spans
and thanks to its high crush and tensile strength it can be direct buried or pulled through sub ducts.

Miniflex® is ultra tough and flexible so as well as being great for fishing through microducts, it can also be fixed directly to walls. It offers an ideal solution for both rural single-dwelling and urban multi-dwelling units.

The Pushable SC connector from PPC can be safely pushed/pulled though small conduits, cavities and holes less than Ø5mm before being fully 'assembled' as an industry standard connector.
Advantages ADSS Outer Jacket
Ultra-lightweight for self supporting spans up to 100 meters (328ft)

Easy Strip Jacket feature for quick and simple handling

UV Resistance and full weather range protection -40°C to +70°C

Can be deployed in both Aerial and Underground installations
MINIFLEX® Inner Cable
Pre-terminated SC/APC QuikPush™ Connector with <4.5mm diameter

Ultra-Flexible 30mm bend radius for compact slack fiber storage

Pushable fiber for routing into building ducts and conduits

Small and unobtrusive enough for surface mount applications

Tough enough for clipping, tacking and gluing

Flame Retardant material

Features
ITU-T G.657 optical fiber

7.0mm Self Supporting Aerial Jacket

3.0mm Miniflex Inner Cable


PPC Pushable SC Connector

Optional Hardened Connector Housing