Aerial Fiber Cable Tangent Supports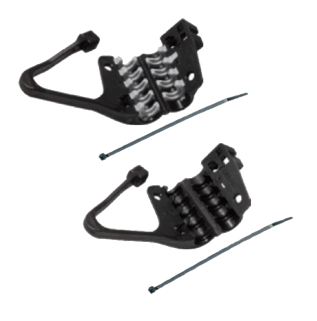 The PPC Aerial Fiber Cable Tangent Supports can be used as an alternative to dead-ends and wedge
clamps on intermediate poles when installing PPC aerial fiber cable.
Where drop cables require support at multiple poles in relatively straight lines (<20° change in direction) the PPC tangent support is a quick and easy solution, requiring no tools to install.

The light-weight, all dielectric construction offers and simple yet robust solution for suspending aerial fiber over long distances, representing a massive cost saving when compared with using 2 traditional cable clamps at intermediate poles.

The Tangent Supports utilise a soft rubber insert to mechanically grip the cable and offer excellent retention in a wide range of environments.
The PPC Tangent Supports are available for both 6mm and 7mm O.D PPC Aerial Fiber Cable and are supplied in packs of 10 pieces.