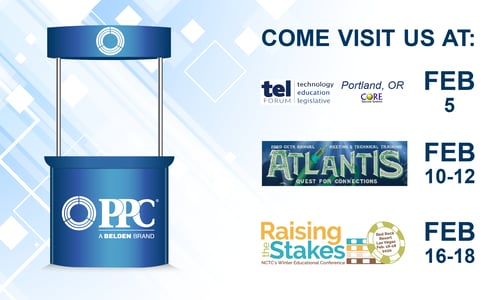 Teams from across PPC Broadband are attending industry events in the U.S. and Bahamas in February, displaying a range of products from fiber to coax connectors. In this blog we're highlighting what you can expect if you visit us at the shows, and where to find us when you get there.
CORE TEL Forum
Our team will be on hand as an exhibitor at the Core TEL Forum in Portland, OR, on Wednesday, February 5. We'll be displaying fiber products, including our FutureLink® enclosures, Miniflex® fiber cable, microduct, QuikPush® connectors and wall clips. Stop by our table to talk to our telecom experts about how we can help you with your fiber needs.
CCTA Annual Meeting
The CCTA (Caribbean Cable & Telecommunications Association) Annual Meeting is being held February 10-12, in Paradise Island, Bahamas. PPC will be there exhibiting a range of products including our PPC QuikPass™, Miniflex fiber cable, FutureLink enclosures, passive splitters, hardline connectors, coax connectors, MoCA filters, and more.
Attendees of the CCTA Meeting will enjoy cutting-edge education programming, make connections at the exhibit hall and network with industry colleagues.
NCTC Winter Conference
We'll also be attending the NCTC Raising the Stakes Winter Educational Conference in Las Vegas, NV, February 16-18.
PPC will have a space (table 225) in the exhibitor's hall on February 17 and 18 where we'll have a wide range of solutions on hand. Some of our key products include coax connectors, QuikTight® jumpers, QuikPush® fiber connectors and DWDM passive devices.
The NCTC Conference schedule includes sessions that discuss the change to fiber networks, DOCSIS, app-based pay-TV solutions and the shifts in TV advertising.
If you won't be attending the shows, but are interested to learn more information about our products, click any of the links listed earlier in this blog, fill out this online form or email our support team at customerservice@ppc-online.com.