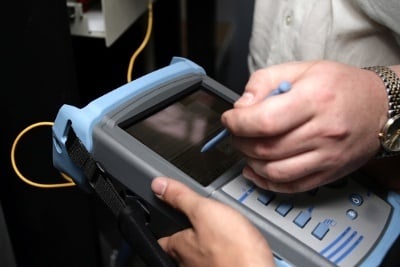 Optical fiber is a fantastic medium for propagating light signals, and it rarely needs amplification in contrast to copper cables. High-quality single mode fiber will often exhibit attenuation (loss of power) as low as 0.1dB per kilometer.
Power or strength of the signal (measured in dB), will always be higher at the head end or central office of the network connection than at the customer end, as it's impossible not to incur some degradation of light over the length of the network connection. If the impact is too great then performance suffers, so understanding and measuring these losses is a critical part of network installation and testing.
For network planners, the bulk of the loss budget is spent between the final node and the customer's network terminal. Splitters add significant loss to this part of the network - far greater than fiber connectors and other passive components. When measuring the attenuation effects of these components, we use the terms insertion loss (IL) and return loss (RL).