Fiber Bonding Clip
FBC-1
PPC's new, easy to install Fiber Optic Bonding Clamp provides a secure bond without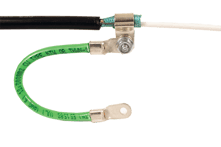 compression of buffer tube or fibers.
Features
Interior clamp insures no compression of buffer tube or fibers
Accepts fiber core up to .240 inches
Serrated surface of interior clamp pierces the copolymer film on shield insuring
bond with shield
Multiple contact points ensure reliable connection
Solid copper clasps, tin-plated, offers most conductive, non-corrosive materials
Floating bond design protects against pullout from frost
Second nut allows for bond removal for testing and maintenance
Easy to install
Cost effective
Clips & Clamps
Bullet Bond 1000®- C4043
A universal shield bond connector that provides superior mechanical connection and electrical bond to the cable shield. The extended "cheese grater shim" affords increased connection and penetration of vinyl coated cable shields. Additional pair protection from heat is afforded by the Extended Heat Shield.
Enhanced Bullet Bond Clip - C4040
A highly reliable shield bond connector that provides an excellent electrical contact and a strong mechanical bond. Fits any medium to large cable 12 pair or larger. Stud length has been increased to 1" to accommodate thicker bond rope being used by some telcos. Molded one piece nut and washer with knurled base to provide tight contact. Can be hand tightened with terminal wrench or to 40 in. lbs. with a "T" handled torque wrench. "Cheese grater shim" provides increased surface contact and "bite" into vinyl coated cable shields.
Beaver Clamp - C4025 and C4025HS
A simple, dependable two-piece cable shield bonding connector that meets or exceeds industry standards and is suitable for torquing to 40 in/lbs or can be tightened with terminal wrench. Molded one piece nut and washer with knurled base for hand tightening with a terminal wrench or a T-Handled torque wrench. Wide base plate is designed to fit cables larger than 200 pair. Order with or without heat shield.
Bond Stud Coin I & II - C2057 and C2058
A fast, easy to install sandwich style bonding clamp with threaded stud for easy attachment through the sheath and shield. Bond coin of adjoining buried service drop or small cable is easily attached to the threaded stud with molded one piece nut and washer with knurled base.
Bonding Coin - C2055 Long and C2056 Short
Sandwich type bond clip for use on cable shield or service drop wire. Sheath with bond coin and compression washers is placed over bond stud of adjoining cable's shield bond connector. Fast, dependable bonding for non-fused shield service wire. Available in long and short version depending on cable or drop size.