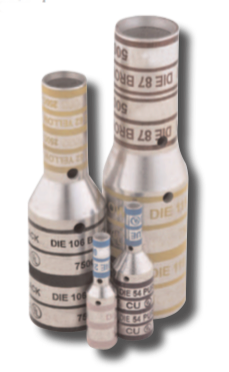 PPC Copper Reducing Splices are the most recent addition to the telecom line of copper compression connectors. Designed for use in Central Offices, Head-Ends, Data Centers and Remote Sites where the need to reduce the connector footprint is greatest.
Features
PPC Copper Reducing Splices are designed for equipment installations where H-Taps are normally used to step down the cable size. When space is at a premium and standard H-Tap splicing is too cumbersome, the Belden reducing splices can be the right choice. Splices are available for a range of cables from 750 Flex to #6 Code.
Compact design provides low profile installation – requires less "real estate" in a central office.
Reducing Splice and two sizes of the appropriate UL listed clear heat-shrink are packaged in an individual bag with instructions (No H-Tap cover is required).
One-person installation. Each side is crimped separately.
Utilizes standard lug crimping dies. More standard tooling options can be utilized.
Lower tonnage tools can now install even the largest reducing splice.
Hand tools can be used on splices for 500 Code/350 Flex and smaller.
Inspection holes verify cable is fully inserted into each barrel.
UL listed and RUS/RDUP listed.