Miniflex® PPC QuikPass™ Cable
The Miniflex® PPC QuikPass™ Cable is a 12-fiber indoor distribution cable for connecting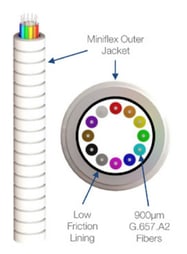 subscribers to the network. It utilizes a tough, engineering grade polymer outer jacket to offer class leading crush and kink resistance.
Manufactured with the ultra-low friction DVC lining, individual fibers can be cut and retracted much greater distances than competing hallway pullback cable solutions. In routes that contain multiple bends, is it easy to cut and extract in excess of 20 meters (65 feet) of fiber, which can then be field spliced/terminated or pushed into corresponding Miniflex Protection Tubing.
The tough outer jacket of the Miniflex PPC QuikPass Cable makes it ideally suited for fixing to walls using traditional cable clips, tacks/staples or, by virtue of the Miniflex grooves, using the dedicated Miniflex cable clips.
The Miniflex PPC QuikPass Cable is so rugged that standard cutting tools struggle to penetrate the tough outer jacket. However, when window-cut using the dedicated PPC Window Cutting Tool, opening the cable is simple, easy and safe.

Advantages
Ultra tough, flexible Miniflex jacket
Loose tube with low friction lining for simple fiber extraction
Flame retardant / LSZH polymer with UV resistance
Bend insensitive G.657.A2 optical fibers