Miniflex® QuikPush® Fiber
Miniflex® QuikPush® is a flexible, pushable pre-terminated fiber optic drop solution for fast and reliable FTTx deployments.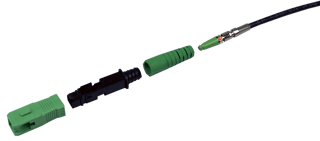 Manufactured using the
patented Miniflex grooving process and utilizing the Balistix pushable connector technology, the Miniflex QuikPush cable has
a number of advantages over alternative last-drop solutions.

The Balistix pushable connector enables the pre-connectorized
QuikPush cable to be installed through microducts and small holes that are typical of most FTTX scenarios. QuikPush can be
installed without using large conduits or drilling big holes through the customer's wall.
Advantages of Miniflex for FTTx
• ITU-T: G.657, & G.651
• UL Riser rated and CPR certified
• Complies with IEC 60794-1-2
• REACH & RoHS compliant
• Pre-terminated – so no field splicing/mechanical termination
• Guaranteed Insertion loss/return loss with certification
• Installs inside microducts with bores as small as 3.5 mm (9/64 in) I.D.
• Industry standard LC and SC connector format
• Single-mode UPC, APC or multi-mode options
• Features Miniflex bend limiting technology
• Ultra light-weight
• High crush resistance
• Low friction outer sheath
• Inherent kink resistance
• Small round concentric design