Rotary Cutting Cable Prep Tools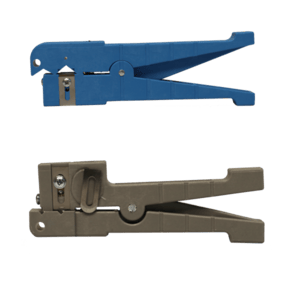 The PPC Rotary Cutters are spring loaded radial cutting tools for cutting a wide range of fiber cable,
microduct and tube products from PPC.
For Miniflex cable and fiber loose tube they are ideally suited to cutting and removing outer jackets to expose optical fiber without damaging the glass. In Microduct applications they allow access to the pull-cord without risk of cutting through it.
The Rotary Cutters leave cable and microduct with a clean and uniform cut so are an ideal solution when using tube/duct couplers such as the AirTight Connector range from PPC.

For ADSS applications the large Rotary Cutter is perfect for removing the outer jacket. Simply pre-set the blade depth to the correct height and the tool is capable of cutting through the FRP strength members to expose the inner fiber package.