Bonding & Grounding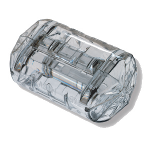 Color-Keyed® Clear H-Tap Covers
Designed to protect and insulate copper H-taps, Belden Color- Keyed® clear H-tap covers can be used in telephone company central offices, remote terminals, CEVs and in wireless companies' cellular huts.
The space-efficient design of these covers includes a positive latching mechanism and a built-in location for an identification label. Each cover is supplied with 2 Safe-Ty® cable ties.
Belden clear H-tap covers are available for a range of H-taps that t cables from 750 Flex to 10 AWG.
Crystal clear high impact, flame retardant polycarbonate-(UL94 V-0 rating)
Clear covers allow for post-cover installation inspection of embossed die code and H-tap/cable preparation.
Positive latching design prevents opening after the cover is installed
Cover shape and "fingers" eliminate the need to tape the copper H-tap as the cover cannot slide over the H-tap nor be easily opened.
Identification labels can be located in the internal pocket and clearly seen through the cover.
UL listed and CSA certified