TuffDuct™ Direct Buried Microduct
TuffDuct™

Direct Buried Microduct is a 10mm microduct for the routing of cables and optical fibers underground and is ultra tough.
TuffDuct™ is one of the most robust microducts on the market, thanks to the special polymer it is constructed from, and is available with a tone-wire if required for locating purposes.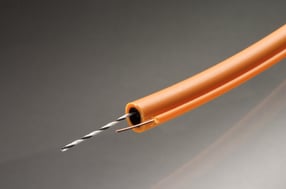 TuffDuct™ microduct has an ultra low friction & low-static DVC™ lining to assist in pulling, blowing and pushing of fiber or cable.
Advantages for FTTx
Ultra tough
Ultra low friction & low static DVC™ lining aiding fiber install
Ultra high crush resistance
Compact size OD perfect for slot trenching
Can be direct buried
Withstands very high temperature e.g. exposure to bitumen
Toneable version available with 0.75mm hard drawn copper clad steel wire. This is a low coil set product
Class-leading push and blow ability
Compatibility List
TuffDuct™ - Direct Buried Microduct is compatible with:
QuikPush products
High install tension suitable for all direct bury methods
Low friction & low static DVC™ lining for excellent blow, push and pull properties
Industry standard push-fit connectors
Compatible with all microduct, fiber and cables
Applications
FTTH/FTTx - Outdoor
Data Infrastructure
Telecoms