MPO Backbone Assembly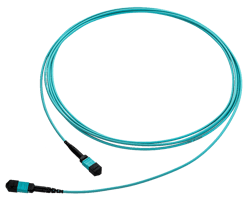 MPO/MTP Backbone Assemblies provide the connection to equipment transceivers on switches or servers that use an MPO interface such as the QSFP (SR4). These patchcords can either be added to the end of a permanent structured cabling link or can be used to directly connect two pieces of equipment.
PPC's patchcords are compact for easy routing and provide an ultra-low loss connector performance.
MPO LC Harness Assembly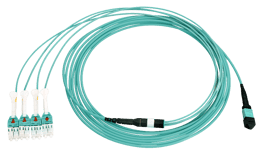 PPC's MPO-LC uni-boot harnesses provides fast and precise connections from patch panels to high density servers and switches. The furcation housing is extremely compact and the harnesses can be supplied with straight tails or staggered tails to match the equipment and port numbering on any equipment.
Transition Module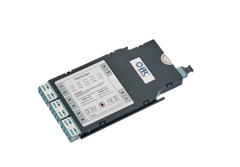 Our transition modules have a compact design that allow for a tool-less installation, ultra-low loss performance for increased link flexibility, and clear port identification and traceability. They're available in Base-8 or Base-12 configurations.
Splice Module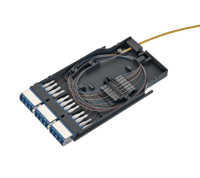 UHD splicing modules allow users to fusion splice cables to factory-assembled pigtails, made easier by a transparent cover for clear visibility of spliced fibers and a compact design.
Patch Module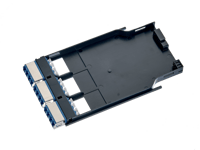 PPC's MPO and LC patch modules are easy and fast to install, even with only one installer doing the job. The modules feature a rear cable clamp and guide clamp, colored adapters and clear port identification.
UHD Chassis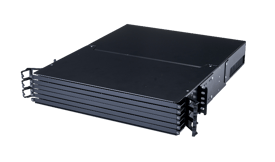 The Ultra-High Density (UHD) chassis has a maximum capacity of 12 front or rear installable modules that allow multiple fiber connections to be quickly, and efficiently, installed and maintained while supporting regular moves, adds and changes.
Skeleton Chassis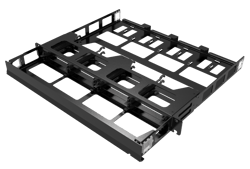 The Skeleton Chassis (SKC) is a modular, pre-terminated distribution platform designed to increase port density, improve connector access, and utilize rack space in central offices. SKC features fast installation of modules from front to rear and clear port identification. Its sturdy, steel construction ensures protection, and promises efficiency.