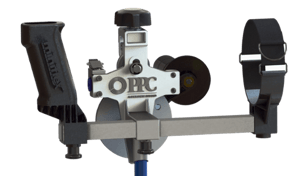 It features a simple loading mechanism that prevents cable damage and saves the fiber installer valuable set up time.
It's optimized to deploy PPC's 2 mm and 3 mm diameter Miniflex cable into 5 mm, 7 mm, 8 mm and 10 mm microducts to up to 300 meter without the need for any power source. HAPI can be used anywhere, either in hand-held mode, with the included height-adjustable monopod or a tripod for longer distances.
HAPI is virtually noiseless in operation due to its manual operation and also enables scalable FTTX roll-outs with minimal CapEx or training.
Features & Benefits
Ideal for both outdoor and indoor deployments

Adjustable arm support with ambidextrous setup option

Works with microducts from 5 mm to 10 mm OD

Fast setup time and can push cable up to 300 meters

30 cm (1 ft) install distance per revolution

Hand operated - no power source required and near silent in use

Rugged compact carry case

Inexpensive - approx. 1/10th the cost of blown fiber equipment