MoCA Products
Since the usual components of a drop network – i.e. coaxial cable and connectors – are already in the home, the only additional items you may need for a MoCA installation are:
MoCA filters
MoCA splitters
MoCA amplifiers
MoCA-enabled pieces of CPE
These products have all been made with MoCA in mind, and help to prevent unwanted signal from entering, or escaping from, the home network.
PoE MoCA Filters

Regardless of the form of network setup, all fixed broadband homes should have a Point of Entry (PoE) filter installed.
The high output power of the MoCA signal means it's able to transmit data further than the network it's intended for. If there aren't proper filters installed, then there is the risk of that signal escaping from the intended subscriber and entering other homes nearby.
Take the example of a subscriber who is a sports fanatic and who pays premium prices to his or her service provider to get access to the premium sports channels. That subscriber then hears that his neighbor is boasting that he is getting all his sports channels for free!
Or imagine a parent who is scrolling through their DVR to find a program for their young child, and who comes across a program not suitable for children that wasn't saved by anyone in their household.
In all likelihood these 'uninvited' programs have been transmitted from a neighbor's network due to the fact that either – or both – of these homes doesn't have a filter installed.
Fortunately, the fix is simple. A PoE low-pass filter can be installed at the subscriber drop and connected between the ground block and the splitter.
Placing a PoE filter at the entrance to the home reflects the signal back into the premises and prevents it leaking out.
It's worth bearing in mind though that MoCA signals can still cause interference if a neighbor doesn't also have a filter - so PoE filters will be required for every MoCA subscriber to prevent the potential for cross-interference.
A PoE filter must also be installed before any splitter or Unity Gain Amplifier (UGA) set-up and should be located as near as possible to the central splitter, UGA or ground block.
Enhanced Indoor/Outdoor Filter
As the demand for in-home networking services continues to increase, it's vital to have strong protection to ensure subscribers receive the best multi-room DVR experience.
Enhanced MoCA Indoor/Outdoor filters are designed both to keep a subscriber's MoCA signals from entering the cable network (through the installation of a filter at the point of entry) and to prevent noise from the cable network from interfering with any MoCA traffic being exchanged between any multi-room MoCA network device (such as a set-top box or router.)
Most MoCA filters are optimized to protect both the network and the subscriber experience by withstanding minor and major surges, keeping content flowing and reducing service calls.
Filters that can be installed bi-directionally can eliminate installation errors. A MoCA filter with a built-in weather seal is ideal to provide moisture protection for outdoor use.
Ground block with integrated MoCA filter
Some subscribers may be aware that cable companies used to use filters on regular networks in order to block access to certain channels that the subscriber hasn't paid for.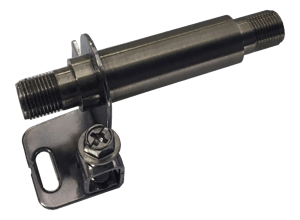 Most technicians will have likely come across a home where the subscriber has removed the filter, believing it would give them access to more channels for free.
What they're actually doing however is allowing unwanted signals in and out of their network.
To help avoid this problem, installing a ground block with an integrated MoCA filter is a smart decision. When the filter is attached to an electric grounding system, there is less chance of the subscriber removing it.
MoCA Amplifier Splitter
The use of splitters throughout the home can cause a myriad of issues, including ingress and egress of unused ports, and a slowdown of the network performance due to the split of signal levels.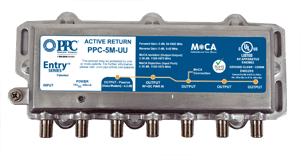 In these situations a MoCA-specific amplifier with integrated splitters can be used to avoid any issues and help manage the run of cable throughout the home.
Instead of using splitters along the cable run, one amp can provide all the splits necessary.
Passive MoCA Portal
PPC's Passive MoCA Portal provides cable network connectivity to broadband devices, such as a DVR and modem, while connecting MoCA devices to the DVR through an isolated internal network.
Since all ports are in one row, troubleshooting with subscribers and installers is easier. For example, they can be instructed to connect the DVR's cable to the "third connector from the left" rather than more complicated directions with ports that are stacked in several rows and columns.