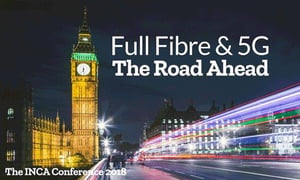 PPC Broadband is proud to be a silver sponsor of this year's INCA (Independent Networks Cooperative Association) Conference - 'Full Fibre & 5G The Road Ahead' - taking place in London, United Kingdom, on November 5th and 6th, 2018.
In addition to participating in the conference's diverse program of workshops, panels and sessions, representatives from PPC will also be exhibiting a range of fiber and broadband solutions. Our table display will include QuikPush® customer drop, multi-fiber MDU solution set, QuikPass™ products and our innovative new aerial enclosure.
According to conference organizers, INCA 2018 intends to "celebrate the growth of the sector, to focus on new developments and opportunities, to welcome continuing government support through funding programmes and to highlight the appetite of investors to support the altnets."
INCA 2018 Program Highlights
For INCA members, the two-day program will commence with an Annual General Meeting on the morning of November 5th. This will be followed by an afternoon of informative parallel workshop events, which will include:
A Technical and Operational Showcase
Digital Infrastructure Investment - explored from both the investor and operator perspectives
A Rural Summit - covering rural fiber and wireless, government subsidy programs, Universal Service Obligation and Local Authority projects
Day Two of the conference is billed as the main conference day and will comprise of keynote speeches, panel discussions, plenary sessions and parallel workshop sessions.
The day will begin with a keynote speech delivered by Ronan Kelly, President of the FTTH Council Europe and Chief CTO of Adtran, followed by two sessions.
The event is anticipated to "close with a bang" with a concluding head-to-head keynote - entitled 'Incumbent vs Challenger' - which will be co-hosted by Openreach's Clive Selley and CityFibre's Greg Mesch.
INCA has been established to support, plan, build and operate sustainable independent and interconnected networks that enhance the social and economic development of the communities they serve.
Membership is open to any organization that supports the development of independent digital networks and infrastructure, with members ranging from network owners, operators and managers to public sector groups, middle mile networks and equipment suppliers.
Plan Your Visit
When: November 5th and 6th, 2018
Where: Amba Hotel Marble Arch, Bryanston Street, London, United Kingdom, W1H 7EH
Delegate Pricing:
Non-member delegates: £350 + VAT (£420 inc. VAT)
INCA Member delegates: £280 + VAT (£336 inc. VAT)
Optional INCA Awards dinner: £150 + VAT (£180 inc. VAT)
Parallel Workshop Program Topics:
Technical and Operational Showcase
Digital Infrastructure Investment
Rural Summit
Barrier Busting
Community Broadband
Digital Infrastructure Development in Wales and Scotland
INCA Gold Standard
Gigabit Wireless
Altnet Coverage and Future Plans
The latest draft of the conference program is also available as a downloadable PDF.