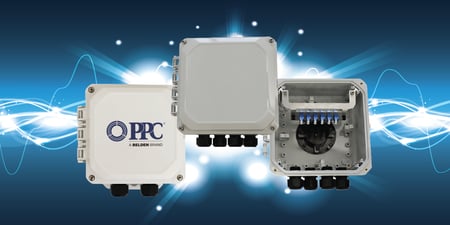 PPC, a leading developer and manufacturer of connectivity solutions for broadband and wireless applications, is pleased to announce the expansion of its terminal hand-off box product line, which will be on display at the 2023 WISPAMERICA exposition in booth number 323.
The hand-off boxes are available in three new size configurations – Mini, Medium, and Large – to meet the varying demands of unique deployment sites. Each configuration is designed to accept industry standard LGX adapter panels and devices used in outdoor environments. They offer wireless network operators an efficient, compact solution that can be mounted inside a pole, on a panel, or in subsurface applications. The new line of terminal boxes is ideal for small-cell fiber connections, and optimized to save time on installation, testing, and maintenance compared to competitive solutions.
The Mini, Medium, and Large Terminal Hand-off Boxes are the latest entry in PPC's growing wireless solutions portfolio. They represent a fraction of network-optimized solutions available from PPC, along with a range of integrated cabinet solutions, fiber-to-the-antenna (FTTA) cable assemblies, indoor and outdoor category cable, 50 ohm cable assemblies, category assemblies and connectors, and outside plant enclosures.

This portfolio of solutions encompasses fiber and copper product categories, enabling PPC to support customers regardless of network design, component needs, and future plans. Whether for a next generation wireless application or a fiber-to-the-home (FTTH) architecture, PPC is positioned to support wireless service providers throughout North America.