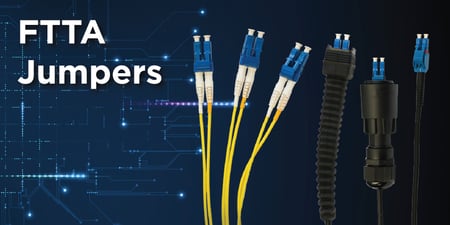 Belden Inc. and its PPC brand, are proven industry leaders in connectivity solutions for broadband and wireless applications. Backed by Belden's century-long legacy of manufacturing excellence, expertise, and innovation, we are pleased to announce a featured display of our fiber-to-the-antenna (FTTA) outdoor jumpers at WISPAPALOOZA 2023 at booth 408.
The FTTA cable assemblies are designed for wireless radio connections or other environmentally-challenging applications. Built with precision and in accordance with Telcordia standards, the FTTA jumpers are designed to exceed industry expectations. The outdoor wireless cable features LC/UPC connectors for high-quality optical performance and long-term durability, with each cable engineered using low smoke zero halogen (LSZH) materials to prioritize safety and environmental responsibility.
The FTTA jumpers are the latest entry in PPC's growing wireless solutions portfolio. They are one of many cable assemblies available, along with a range of integrated cabinet solutions, indoor and outdoor category cable, category assemblies and connectors, and outside plant enclosures.

This portfolio of solutions encompasses fiber and copper product categories, enabling Belden and its PPC brand to support customers regardless of network design, component needs, and future plans. Whether for a next generation wireless application or a fiber-to-the-home (FTTH) architecture, we are positioned to support wireless service providers throughout North America.