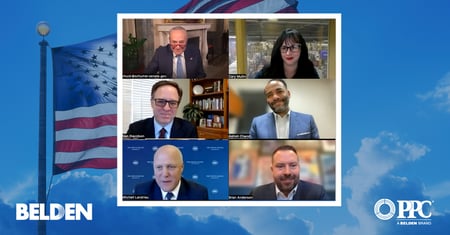 Belden Inc., a leading global supplier of network infrastructure and digitization solutions, joined Senator Chuck Schumer, Senior White House advisor Mitch Landrieu, and Assistant Secretary Alan Davidson from the National Telecommunications and Information Administration (NTIA) as they recognized Belden's investment in broadband innovation at its Syracuse, NY, facility.
Syracuse is home to PPC Broadband Inc., a wholly owned subsidiary of Belden, where government funding of broadband expansion has led to notable capital investment and sustainable job creation. This includes $9 million to increase fiber cable extrusion, termination, and testing and 200 additional jobs needed to meet "Buy America" requirements of the federally-funded programs.
"We understand the priorities laid out by Senator Schumer, President Biden, and other Administration officials. They want U.S.-funded programs to benefit U.S.-based industry and to be used in U.S. factories," said Dr. Ashish Chand, Belden CEO. "Belden is answering that call by investing in research and development, capital projects and job creation in Syracuse and across the United States."
This week marks the two year anniversary of the Bipartisan Infrastructure Law (BIL), which was signed by President Biden on November 15, 2021. The law includes $65 billion to provide affordable, high-speed internet to all Americans. The $42.45 billion Broadband Equity, Access, and Deployment (BEAD) program is funded through the BIL and is specifically aimed at reaching rural unserved and underserved communities.
Belden's New York-based operations have focused on improvements to manufacturing processes and repositioning teams to better support U.S. customers benefiting from these federal programs, helping maintain a strong position within the North American broadband market.
"Investing in tomorrow's workforce today is how we can breathe new life into Central New York's manufacturing legacy, and PPC Broadband is at the forefront of this effort – ensuring New Yorkers can get the good-paying jobs to build a good life for them and their families," said Senator Schumer.
The investments recognized by Senator Schumer, the White House, and NTIA represent Belden's commitment to innovation as a key piece of its transformational journey to becoming the world's leading provider of network and digitization solutions. Through a continued focus on research and development, world-class manufacturing capabilities, and talent investment, Belden remains uniquely positioned to support its many customers in the United States, throughout North America, and around the world.