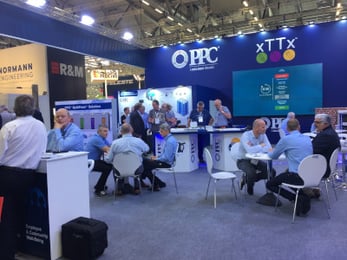 In June, we were excited to join over 20,000 network operators, service providers and vendors from the international telecommunications and media industries in Cologne, Germany for the annual ANGA COM Exhibition and Conference.
The three-day event, held June 4-6 2019, hosted 500 exhibitors, 170 speakers and 34 conference panels, and was attended by market professionals from 78 different countries.
The conference program offered constructive discussions among expert panelists on topics such as gigabit networks, Internet of Things (IoT), streaming, cloud TV, big data and 5G. At PPC's booth, the topics of focus were on the PPC QuikPass™ solution and our sustainability initiatives.
Showcasing PPC QuikPass™
As an exhibitor, we were proud to showcase some of our innovative product offerings, including our PPC QuikPass™ solution, an FTTx product set that combines both functionality and form. The family of products provides a one-stop solution where every aspect of the build is considered, and we enjoyed demonstrating them while exchanging in discussion with other market professionals.
As part of our fiber portfolio, we also demonstrated the new Quik Install Kit, indoor/outdoor QuikDrop™ aerial cable with its aerial enclosure, HAPI pushing tool and Optical Line Monitoring (OLM) system.
A focus on sustainability
We were pleased to find one of the biggest themes of the event was sustainability. At PPC, we're constantly implementing innovative ways to minimize our environmental footprint through energy efficiency, waste reduction, recycling and conservation.
For example, all our scrap metal chips are now spun in a centrifuge to achieve a moisture content of less than 2% by weight and we've traded in the usual cardboard cable reel and box for a reusable plastic reel and zippered branded bag.
We came away from the event thoroughly inspired and even more committed to the world where we work and live.
We look forward to being back next year for ANGA COM 2020.