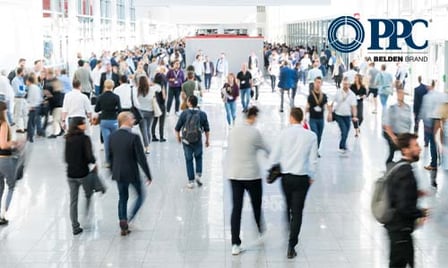 PPC is participating in several telecommunications exhibitions around the world this fall, and while many events are being held in-person, others have transitioned to digital due to COVID-19 concerns and health protocols.
In October, you can expect to find us at SCTE Cable-Tec Expo, Wispapalooza, Bayerisches Breitband Forum, ATA Annual Tech Showcase and Mid-America Telecom Showcase & Seminar (MATSS).
In our blog, we're previewing what you can expect if you visit our booths at these upcoming shows, and how you can interact with us to learn more about the solutions we'll have on display.
SCTE Cable-Tec Expo
Each year, SCTE Cable-Tec Expo allows attendees to create opportunities across industries, learn about new technologies and network with others who are experts in their businesses. This year is no different, but in a virtual experience.
SCTE Cable-Tec Expo is taking place October 11 to 14 through the comfort of your home or company office. During the event, our expert product teams will meet virtually with customers to discuss our new and innovative tech-friendly designs, our end-to-end fiber solutions and all our xTTx® capabilities.
Visit SCTE's website to learn more and to register for the virtual event.
Wispapalooza
PPC is participating in Wispapalooza in Las Vegas, Nevada, October 11 to 14. The event will have more than 90 session panels discussing topics from Wireless and FTTH to cybersecurity, and more than 2,000 attendees to network with.
When you visit our booth (# 545), you can expect to get hands-on product demos of our WISP boxes, fiber patchcords, Hand-off Box, RJ45 Keystones, category cable, home install kits and more.
Bayerisches Breitband Forum
After Bayerisches Breitband Forum was forced to cancel last year, we're excited to join the exhibition in person for 2021. The Forum is being held in Gunzenhausen, Germany on October 14.
Some fiber products you can expect to see at our booth when you visit include our QuikPush® cable assembly, QuikPush boxes and terminals, Miniflex® cable and microduct, HAPI™ Tool and Quik Install Kit.
ATA Annual Tech Showcase
This year's ATA Annual Tech Showcase is back after a year hiatus, a common theme across many events this fall. The exhibition is being held in Anchorage, Alaska October 27 and 28 and will comprise several free technical seminars and in-depth trainings.
PPC's team will be on site in the exhibition area to demo and discuss some of our most widely adopted fiber products including Miniflex cable, QuikPush cable assemblies, microduct, aerial cable, enclosures and more.
Mid-America Telecom Showcase & Seminar
PPC representatives will be among telecom experts attending the Mid-America Telecom Showcase & Seminar (MATSS) in Kansas City, Missouri from October 18 to 20. The event was forced to cancel in 2020 but is excited to welcome participants back to learn more about the latest in telecom technology.
Be sure to visit PPC at Booth # 517 to talk to our product experts about all things telecom. When you visit, you can expect to learn more about our FTTH solutions, high density MDU products, fiber cabinets, fiber and microduct.
If you're planning to attend any of these events and would like to schedule a meeting with our teams, contact our customer service representatives.
If you can't visit our booths in person, but would still like more information about how our xTTx solutions can help you, submit your information through the form on this webpage and our experts will get in touch.