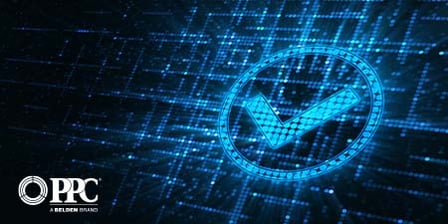 Throughout its locations worldwide, PPC Broadband is always looking for ways to improve its global quality management standards by focusing on customer satisfaction and process development.
PPC is excited to announce its Global Quality Management team, at the U.S. headquarters in East Syracuse, recently achieved an important global quality milestone by receiving TL 9000 certification. This achievement supports the continued growth of PPC's fiber business among leading global telecommunications providers.
What is TL 9000 Certification?
TL 9000 is the Telecom Quality Management System designed to meet supply chain requirements of the international telecommunications industry. The system ensures quality by defining system requirements central to the design, development, production, delivery, deployment and maintenance of telecommunications products and services. It also provides standardized measurements for tracking performance and improving results.
Some key benefits of a quality management system include:
Meeting customer requirements
Ensuring regulatory and provision compliance
Defining, improving and controlling processes
Reducing waste
Lowering costs
Facilitating and identifying training opportunities
Producing consistent results
Achievement in Global Quality Management
PPC's global quality policy states, "We are dedicated to Continuous Improvement of our people, processes, products and services; always determined to exceed our customer's expectations." To meet its mission of continuous improvement, PPC emphasizes quality throughout its organization through employee engagement, development, training programs and other initiatives.
PPC previously obtained its ISO 9001 certification in 2007. A more recent quality achievement came in 2021 when the PPC headquarters in East Syracuse, NY, passed TL 9000 certification for comprehensive requirements of the telecommunications industry. PPC's TL 9000 certification demonstrates how it's committed to continuously improving its global quality management processes.
The TL 9000 certification covers most of PPC's fiber products portfolio, including its fiber optic cables, cable assemblies, optical passive devices, enclosures and optical assemblies. PPC's customers, including leading telecommunications companies worldwide, are increasingly requiring TL 9000 from their suppliers, and PPC strives to be at the forefront of that broadband and wireless communication growth.
Continuing Commitment to Quality Management
PPC's longstanding commitment to the steady, long-term improvement of its products and processes is a cornerstone of its business strategy. Moving forward, PPC will continue to create value for its customers by pursuing outstanding quality in each of its worldwide locations.