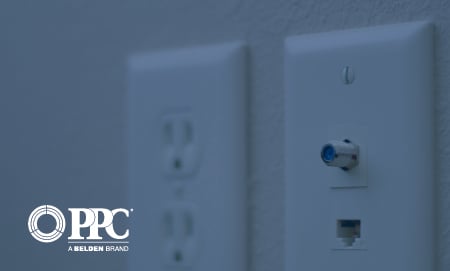 Businesses, now more than ever, must do their part investing in sustainable and environmentally responsible practices.
At PPC, we apply this ideology to the technology we develop and offer to our customers worldwide. Our Keystone wall plates and supporting accessories are not only environmentally conscious, but also satisfy your data, voice, and other communication needs.
What is a Keystone Wall Plate?
PPC's Keystone solutions are a combination of our manufactured wall plates and accessories. They are sleekly designed and have a small-space requirement while offering up to three-port accessibility. They can also be installed in five easy steps to create a professional look in any commercial setting.
Recyclable Parts Help Environment
The current process for a technician to replace an existing wall plate is to scrape it off completely before installing a new one. And what happens to the wall plate they removed? Most of the time it gets thrown in the trash. This installation process becomes time-consuming, wasteful, and costly.
What many technicians don't realize is wall plates are often recyclable. And even if they do, if they find a wall plate with an accessory attached, like an F81, installers may opt for the trash instead of separating the plastic from the metal and recycling the used parts.
With PPC's Keystone wall plates, there's no need for this kind of environmental blunder. The solution is designed to easily separate its component parts so if a technician does need to dispose of the wall plate or accessory, there's no effort needed to dispose of the individual parts properly.
Waste-reducing Keystone Products
Another way the Keystone solution improves sustainability is through longevity. After first install, our plates require no further adjustments, modifications, or removals. Any network upgrades can be satisfied by simply changing out the fiber, copper, or category keystone. Without the need to remove the entire wall plate, ample product is saved from the landfill.
For example, a multi-dwelling unit (MDU) with 50 units could have 100 broadband wall plates throughout the building – two wall plates per unit. Each time a new tenant moves into a unit and changes their service or needs a network update, the wall plate would be removed, thrown away, and replaced.
Over time, the original installation of 100 wall plates more than doubles, or even triples, because of those network updates. With PPC's Keystone solution, however, the 100 plates required will only need to be installed once. If a system upgrade is desired after the initial Keystone installation, the only parts exchanged are the keystone accessories - not the entire plate.
Time and Cost Savings for Providers
Using PPC's Keystone solution is also cost- and time-efficient for both the service provider and subscriber. Cost-savings stem from the need to purchase fewer wall plates over time, which can lead to lower costs for subscribers, too.
And since the network upgrade using PPC's solution will take less time for a technician to install, that technician can fit more service calls into their schedule each day, resulting in shorter lead times for service upgrades and happier subscribers.
Thanks to the Keystone solution's modular design and the diversity of the plates and accessories, environmental sustainability is achieved, time and money is saved, and installation becomes seemingly effortless.