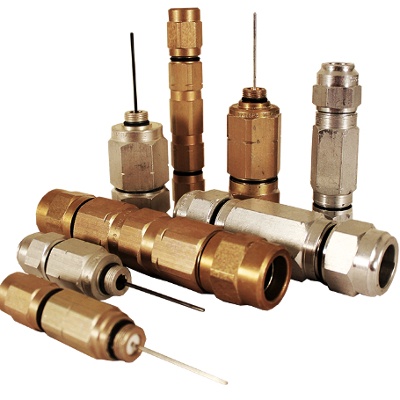 Having the right hardline connectors is often overlooked when doing node replacements, node splits, or tap replacements in a broadband HFC (hybrid fiber coax) network. Because these connectors are not the most expensive part of a project, there can be a tendency to underestimate the amount of trouble they can cause if they are not properly installed or maintained.
In most HFC architectures today, the nodes are getting closer and closer to the subscriber as fiber slowly replaces coax. As the number of subscribers per node decreases, the number of nodes in a broadband network increases.
During these node splits, you will sometimes have the opportunity to improve existing performance by replacing old connectors with new ones. Each connector in a network may cause a small amount of return and insertion loss in the signal performance. If you haven't accounted for this loss in your network design, you will end up not meeting performance requirements, having poor subscriber experience, and not knowing exactly how to determine what went wrong.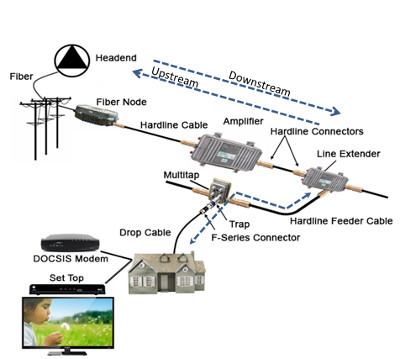 We recommend that not just technicians, but network managers, system designers, and planners examine and analyze the hardline connector strategy before performing any node changes or installations.
When examining connectors, you may notice several symptoms that your system will underperform, especially if you intend to reuse the hardline connectors you currently have in place.
While there is one correct way to install these connectors, there are at least eight incorrect ways.
Can you reuse your hardline connectors?
In the interest of saving money, it is often possible to reuse existing connectors that have been removed during an installation/upgrade. By examining them carefully, you can determine whether or not they have sustained damage and whether or not they can still maintain signal integrity.
Four key measurements
There are four things to look out for in your hardline connector strategy, as described below:
Signal level delivery - hitting the threshold. Obviously, the combined losses of your connectors must fit within the levels you require to eventually get to the customer premise equipment (CPE). Be sure your hardline connectors have very low losses.
RFI integrity - keeping it tight. We have written before on the problems of LTE interference, but there is also plenty of ordinary RFI leakage to account for when working on a network upgrade.
Installation practice - keeping out moisture. Moisture is the number one cause of connection problems in a network. Your hardline connectors should be specifically designed to keep any moisture out of the connector and off of the cable. In addition, you have to make sure to remove flooding compound in the connection, and make sure the conductor itself is free of flooding compound.
Tool integrity – keeping things sharp! The majority of connector problems we have seen are due to the use of degraded tools. Using sub-par tools, such as a dull or damaged cutting blade, can cause scoring of the center conductor, or weaknesses or holes in the cable itself that will allow moisture to seep in.
Three key features of hardline connectors
There are several key features the hardline connectors in your network should always have:
Positive stop – a positive stop on your hardline connectors ensures that you will have visual feedback of when the connector is installed properly. This positive feedback means a job well done and that you can rely on that connection for years to come.
Active O-ring – an active O-ring is a rubber or silicon based seal that is engaged when the pieces of the connector are threaded together. An active O-ring prevents any moisture from entering the connector.
Anti-rotation – having anti-rotation on a hardline connector prevents cable twist and eliminates the possibility of damage to the cable from loop swings that can occur.
There are some connectors available today that do not have these features and we believe they will lead you into trouble by not providing weather protection, signal integrity, and installation ease with the proper techniques and tools.
As we said above, the hardline connector is often overlooked as the "given" part of a network upgrade or node split. But because there are so many hardline connectors in an HFC system, and because they are the glue that holds a distribution network together, it will reward you to pay special attention to these small items. You can prevent big losses and service headaches by making sure your hardline connectors are the best quality, and properly installed.