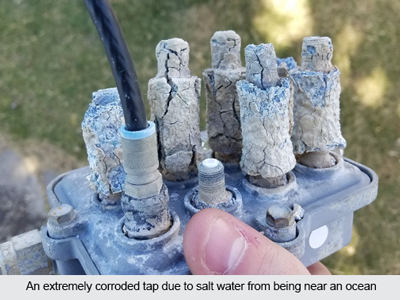 Cable taps that are being left empty and open on telephone poles are causing problems for TV service providers and technicians. This can be due to a number of reasons, for example if a subscriber cancels their service or a newly-installed tap does not have enough neighborhood subscribers to fill the ports.
These unused ports are becoming a problem because of corrosion from moisture, and noise from RF egress and ingress, but could be solved with the use of a terminator.
Terminators are simple devices that electrically terminate RF coaxial ports both inside and outside of the home. The use of terminators can help protect nearby broadband networks from noise, avoid corrosion of ports and enable technicians to easily decipher the availability of a port.