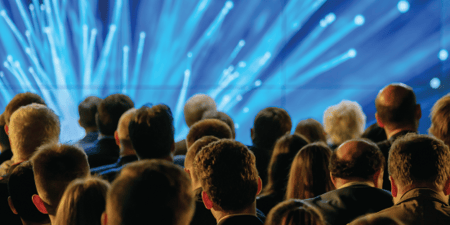 We're nearing the end of our tradeshow season, but that's not stopping our team from delivering you the latest in optical fiber solutions. With unlimited possibilities, and extensive bandwidth potential and adaptability, the increasing need for higher broadband speed is heightening the demand for fiber network deployments around the world. That's why PPC will be exhibiting our extensive fiber solution set at two global events in November in South Africa and Colombia.

In this blog, we're previewing what you can expect if you attend AfricaCom and Fiber Connect LATAM, how you can interact with our specialists, and sharing additional information about the solutions on display.
AfricaCom
AfricaCom is the largest digital infrastructure show in Africa. Attending this event will give you access to dozens of panel discussions ranging in topic from cybercrime to 5G enabled networks. This event takes place in Cape Town, South Africa, from November 7 to 11, bringing innovators from around the world under one roof.

Looking to attend one of the most exciting showcases of the year? Don't miss the opportunity to interact with PPC's product experts at booth D80 in the exhibition hall. Our team will discuss driving innovation and the growth of our fiber broadband solutions, including:

Active Solutions
PPC's active products are built with advanced features, capabilities and management tools that make them among the most versatile in the global marketplace. The powerful customization options and modern features give the flexibility to create an optimized FTTx network.
Cabling Solutions
Fiber Management Systems
Kit Solutions
As an end-to-end solutions provider, PPC has built a portfolio containing a broad array of products suitable for applications spanning your broadband network. We've bundled a collection of individual products that work together to create tech-friendly, comprehensive fiber kit solutions for the premises.
Fill out the form on this page to book a meeting, or to ask our product team questions about the products being displayed.
Fiber Connect LATAM
Don't miss out on the chance to join fiber solution operators, providers, and other professionals at Fiber Connect LATAM 2022 in Bogota, Colombia, from November 8 to 9. Learn more about emerging technologies and gain insight into how fiber broadband is revolutionizing Latin America today. Attendees can network with industry leaders, learn how fiber broadband is positioned in the Latin American market, and hear about the different ways fiber solutions meet the growing demand for larger and faster networks.
The PPC team will exhibit at booth 3 in the exhibition hall and display our FTTx solutions portfolio, including products ranging from cables to clips, microducts, and assembly kits.

Fiber Premises Deployment Solutions
Here are the fiber premises products you can expect to see displayed in Colombia this year:
Fiber Hardware & Support Solutions
PPC offers a wide assortment of high-quality fiber optic hardware and accessories for integration with its fiber enclosures, cables, and connectors, which will be showcased at Fiber Connect LATAM. These include:
If you are attending Fiber Connect LATAM and are interested in scheduling a meeting to learn more about the solutions being displayed, fill out the form on this webpage and our representatives will be in touch.
Industry Insights, Product Updates & Company News
Unable to attend these events, but still looking for more information on our solutions? We regularly offer insights into our end-to-end solution set, industry advancements as well as practical suggestions for all types of network installations in our monthly newsletter. Subscribe to our email updates here to receive industry tips straight to your inbox.