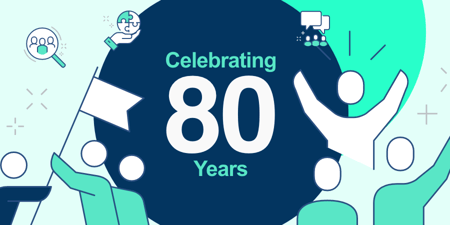 PPC's design teams have contributed to many industry firsts, including pushable fiber, integrated weather seal connectors, and more. Since 1942, this history of innovation has led to a creative, craft-friendly portfolio of broadband and wireless solutions designed to support any application for any customer, anywhere in the world.
In this blog, we're looking back on 80 years of innovation at PPC, and how we're projecting a future of endless connectivity.
PPC's Ongoing Commitment to Innovation, Value, Quality & Reliability

PPC is a leading manufacturer and developer of connectivity and network optimization solutions for broadband and wireless service providers around the world. Grown from a copper products supplier, we offer award-winning designs for fiber optics, RF, construction hardware, ancillary products and more through technical leadership and innovative services. As an end-to-end solutions provider, PPC is built to deliver premier products that strengthen the most critical part of a customer's network.
A Memorable Year for Broadband and Wireless Connectivity
2022 is a milestone year for us.
In Kochi, India, PPC celebrated the opening of our newest manufacturing facility. This building is designed to create an immersive customer experience, enable advanced testing, and streamline production and customer service in the Asia Pacific region.
Also this year, PPC acquired Communication Associates Inc. (CAI). CAI's innovative product offerings of RF components combine with PPC's powerful range of products to create a more complete solutions-based portfolio.
PPC continues to hold more patents in connector technology than any other company worldwide. Our team continues to create, build, and patent essential solutions that make the future possible.
A Look Down Memory Lane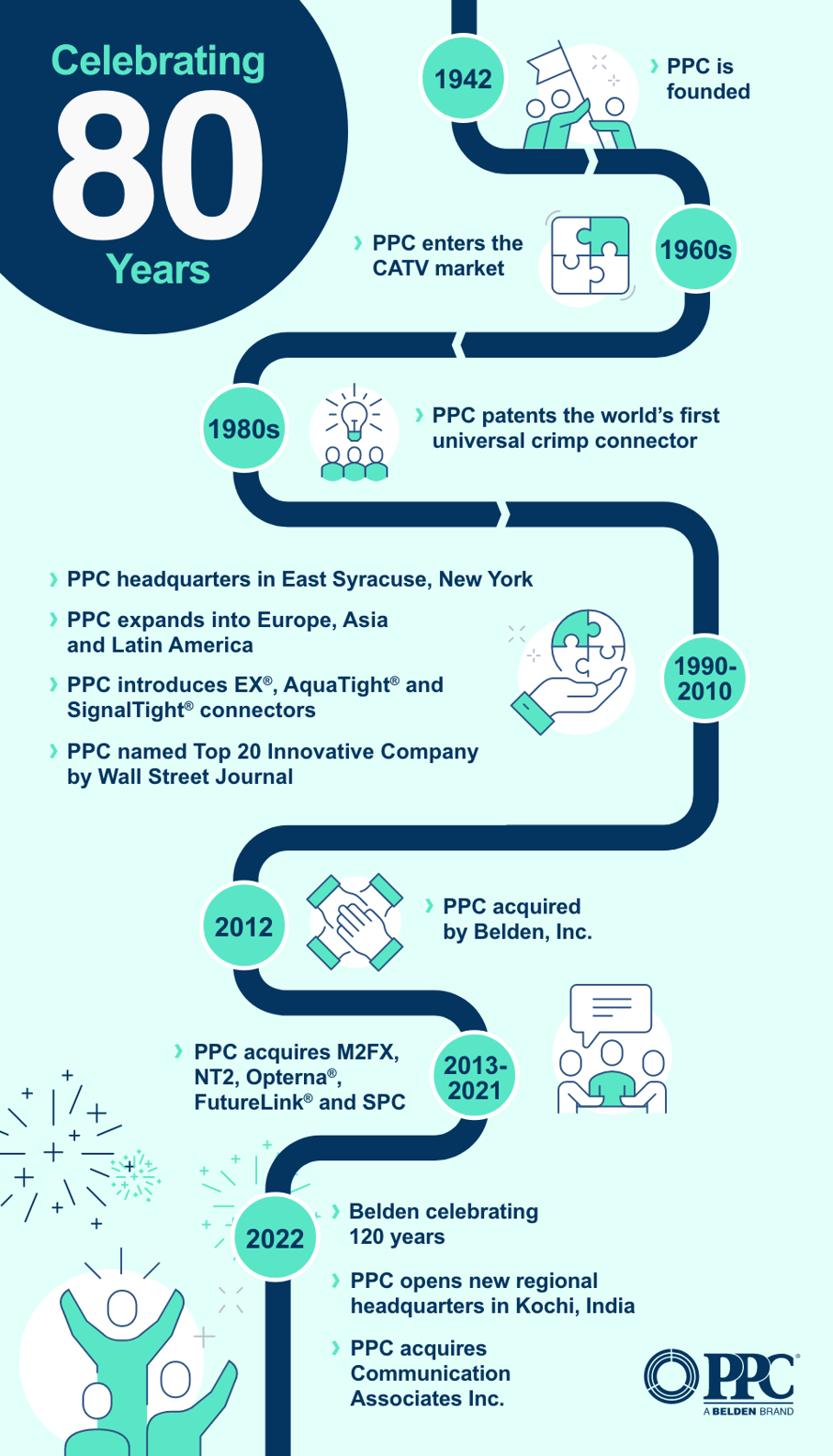 This anniversary is an opportunity to reflect on our past accomplishments and successes, but it also reminds us of our responsibility to build for the next 80 years and beyond.
Exceeding the Demands of Tomorrow's Digital Economy
In the future, connectivity will only continue to expand – that's why PPC is constantly scaling to provide the market with the latest solutions needed to support everyday demands. Recognized for our quality and performance, we make today's ideas possible for tomorrow, with our full suite of fiber and copper solutions that will exceed the needs of the future's digital economy.
With a reputation for innovation, unmatched quality, superior customer service and an ever-growing solutions portfolio, PPC remains ingrained as a trusted provider to global network operators. PPC's diverse solutions and products support a wide swath of network architectures and applications, which you can learn more about here.
Continuous Pledge to Global Quality
Throughout PPC's worldwide locations, the company is constantly striving to improve its global quality management systems by focusing on customer satisfaction and process development.
PPC has not only achieved ISO 9001: 2015 certification at all its global locations, but has also received an important global quality milestone of TL 9000 certifications at its headquarters in East Syracuse, New York; Shawnee, Kansas; Monterrey, Mexico; and Framlingham, United Kingdom. PPC strives to reach TL 9000 at all its global locations to support the continued growth of its fiber business among leading global telecommunications providers.
Creating a Connected, Responsible, & Sustainable World for All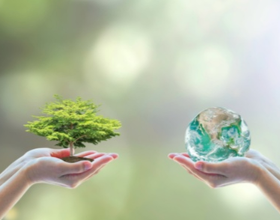 As a company, we are responsible for making a positive impact, not only in our industry, but in the communities and environments where we engage. At PPC, we believe our partners, customers, community and employees deserve a safe workplace with minimal impact on local and global ecosystems. That's why we are constantly applying innovative ways to minimize our environmental footprint through energy efficiency, waste reduction, recycling, and conservation, and we encourage our partners to commit to sustainable practices as well. Some of our energy efficiency and recycling goals include:
Improving energy efficiency through HVAC, automating all HVAC controls, and installing new equipment to balance air flow and optimize ventilation
Decreasing energy conservation by installing external LED motion-controlled lighting systems and low-energy consumption air compressors
Reducing waste of soiled scrap metal by spinning off excess oil left on the hardware to achieve a moisture content of less than 2% by weight for re-use
Visit our sustainability webpage to learn more about PPC's current recycling practices and goals.
We celebrate our 80th anniversary committed to more innovation, growth, and transformation in the next chapters of our story. We are committed to being the best PPC we can be for all those who are a part of our future.
Follow for the Latest Product Updates & News
Broadband connectivity technologies are constantly changing. Stay up-to-date on the latest industry advancements by signing up for our newsletter or following us on Facebook, LinkedIn, and Twitter.
PPC has dedicated customer service personnel located worldwide providing 24/7 support. To contact us, email customerservice@ppc-online.com or submit a question on this form, and our team will get back to you.