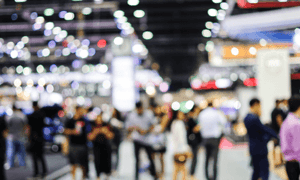 SCaTINDIA will mark its 27th year of operation this October 2018 with its annual three-day cable industry exhibition at the World Trade Center (WTC) in Mumbai, India.
This year's event is on track to attract in excess of 19,000 visitors and will feature products from more than 300 global cable professionals from throughout India, China, U.S. and Europe.
Exhibitor profiles range from CATV hardware manufacturers to broadband service and technology providers, component suppliers, system installers, fiber optic cable manufacturers, satellite broadcasters and pay TV channels.
PPC fiber and broadband connectivity solutions
PPC Broadband will be exhibiting at the show (Booth A3) where we will be showcasing a range of broadband connectivity solutions including: coaxial cable, category cable, SignalTight® and AquaTight® connectors.
Additionally, PPC will display its end-to-end fiber solutions portfolio including headend fiber management, high-density passives, cabinets, fiber transport and optimization equipment, custom cable assemblies, fiber demarcation enclosures, Miniflex® and QuikPush®.
The rise of Indian CATV
SCaT India provides a showcase for products that specifically focus on the requirements of cable networks and multiple cable television system operators (MSOs) throughout South Asia.
The Indian cable TV industry is currently the second largest cable TV market worldwide and is growing at a rate between 8% and 10% annually. As of October 2018, there are 90 million Indian homes with CATV (totaling more than the whole of Europe combined), and the majority are already equipped with fiber and digital.
There's also a sizable Indian retail market with more than 20,000 cable headends (master facilities for receiving, processing and distributing television signals) and more than 40,000 cable operators.
Meanwhile, a large emerging demand for direct-to-home (DTH) distribution equipment for multi-storied units (MSUs) is fueling the need for RG-6 and RG-11 coax for DTH distribution.
SCaTINDIA 2018 - When and Where
Venue: WTC Complex, Ganesh Murti Nagar, Cuffe Parade, Mumbai, Maharashtra, 400005, India
Exhibition Times: Wednesday, October 24th - 11:00am to 6:30pm; Thursday, October 25th - 10:30am to 6:30pm; Friday, October 26th - 10:30am to 6:00pm
Accommodation: The organizers have negotiated a special rate offer with the Vivanta by Taj President - a 5 star hotel located within five minutes' walk of the WTC. Advance bookings are strongly recommended.
SCaTINDIA is the largest trade show tailored exclusively to India's burgeoning satellite and cable industry. It's organized by SCaT Media & Consultancy and co-hosted by ABV and DWTV.