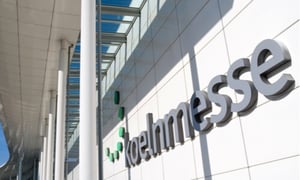 Representatives from PPC Broadband will join experts from across the international telecommunications and media industry at the ANGA COM Exhibition and Conference which takes place in Cologne, Germany,12 June through 14 June, 2018.
Organised by the Association of German Cable Operators (ANGA), this year's event has attracted a record 500 exhibitors, bringing together network operators, content providers, vendors and service providers from 36 countries.
ANGA COM Conference and Exhibition Highlights
More than 15,000 participants have registered to attend and the conference will feature presentations from 160 speakers.
A highlight of the first day will be the International CTO Panel with Arris, Com Hem, Liberty Global, Tele Columbus, TDC Group, Cisco and Vodafone Deutschland.
On day two, representatives from Vodafone Deutschland (Dr Manuel Cubero), Deutsche Telecom (Dr Dirk Wossner), Sky Deutschland (Carsten Schmidt), ProSiebenSat.1 (Conrad Albert) and Unitymedia (Lutz Schuler) will join a summit discussion covering the latest developments in the media and broadband markets.
The conference will also feature 16 panels in English, covering a range of key issues including DOCSIS 3.1, FTTH, OTT, WiFi, HFC Networks, Cloud Services, Copyright Law, Multiscreen, Big Data and TV strategies in Europe, Africa and the Middle East.
Meet the PPC Broadband Team
PPC is delighted to be among the exhibitors at ANGA COM 2018 where we will be demonstrating a selection of products in our Fiber Lounge and adjoining Workstation.
The Fiber Lounge will showcase PPC's QuikPush® customer drop, which connects a subscriber by pushing in the cable via a pre-installed Microduct.
The demonstration will show how slack is stored in the customer wall terminal and will also feature demos on how to assemble our SC/APC Balistix Connector and LC/APC Balistix Connector onto the QuikPush Cable.
Other PPC products on display at the exhibition will be:
Slip-Resistant Wrench Compatible Hardline Connector
The addition of a machined groove enables the specialized PPC Slip Resistant Wrench to be engaged to more safely install the connector.
The new connectors are reverse compatible with the original PPC design and with the same "Best in Class" RF, mechanical, electrical, environmental performance.
QuikTight™
The consumer-friendly and easy-to-install SignalTight® jumper technology that establishes a complete connection in 2-3 turns.
When used together, QuikTight and SignalTight maintain ground contact between the connector and the port, even when loose, which prevents noise from entering the system.
REVConnect® & Category Cable
A field mountable REVConnect plug that eliminates the jack, box and patch cord assembly normally needed to plug in devices.
The system addresses the Internet of Things (IoT) and AV needs for WiFi connectivity, building security systems, LED lighting and sensors, wireless access points, digital signage, audio mixing consoles, HVAC and more.
Multi-Fiber MDU Solution Set
For the first time, PPC will also be showcasing its new multi-fiber MDU solution set, which consists of a hallway distribution cable and break out boxes from where the customer drop is taken inside to the wall outlet in the individual apartments.
Plan your visit to ANGA COM 2018
Location - Kolenmesse, Deutz-Mulheimer Str. 111, 50679, Koln, Germany
Opening Hours - 12 & 13 June 2018 - 9.00am to 6.00pm; 14 June 2018 - 9.00am to 4.00pm
Registration - Exhibition and conference season tickets can be booked online or purchased on site at the ticket office.
Exhibitors - The full list of ANGA COM 2018 exhibitors can be downloaded here.
Floorplan - Plan your visit using this interactive floorplan with exhibitor search functionality.
Meet the PPC Broadband Team - PPC's exhibition stand will be located in Hall 7, Booth E21.