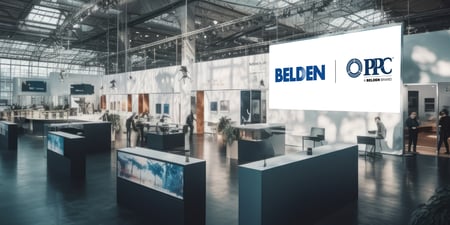 Step into a world of global innovation and unparalleled networking this September. Our dedicated personnel will travel to the U.K.; Mexico; Las Vegas, Nevada; and Louisville, Kentucky in pursuit of delivering the latest connectivity solutions that will elevate your network to new heights.
In this blog, we're previewing what you can expect if you attend Connected Britain, Convergencia Show, Utility Expo, and Mobile World Congress, and where you can find more details about the solutions we'll have on display at our booths.
Connected Britain
The U.K.'s most important connectivity event is here! Join us at Connected Britain where you'll have the opportunity to engage with our experts and fellow pioneering innovators. Explore the forefront of broadband technologies and innovation during this event, which is taking place in the heart of London, England, from September 20 to 21. Be sure to stop by stand 199 to immerse yourself in our fiber solutions offerings, including:
Fiber Cabling Solutions
Fiber Enclosures
Misc. Solutions
Joining us in London? Visit the official PPC / Connected Britain webpage for more information on this event.
Convergencia Show
Back-to-back with Connected Britain, our team in Latin America will be at the Convergencia Show in Guadalajara, Mexico, from September 21 to 22. This event will assemble experts from multiple industries, ranging from cable operators to broadband providers experts, and more. Come stop by at our booth where we will showcase our comprehensive array of end-to-end solutions.
Central Office Solutions
Premises Solutions
You can find the full product list on our Convergencia Show webpage.
Mobile World Congress
North America is at the forefront of 5G innovation and Mobile World Congress (MWC) brings you access to its biggest enterprise opportunities. This event facilitates unmatched networking, as well as provides insights from pioneering thought leaders.
Set against the vibrant backdrop of Las Vegas, Nevada, MWC takes place from September 26 to 28, and stands as the premier connectivity expo in North America. This conference brings together prominent figures in the telecommunications industry, and we're thrilled to be a part of the action. You can find our experts on the exhibit hall at booth 827, displaying our latest wireless and fiber connectivity solutions.
Wireless Solutions
Fiber Premises Solutions
To learn more about the solutions being displayed at MWC, or if you'd like to schedule a meeting with our team while you're there, fill out the form on this webpage.
The Utility Expo
Simultaneously with MWC, The Utility Expo is our final show of the month, and is happening in Louisville, Kentucky, from September 26 to 28. During this time, our team will spotlight our innovations that align with various solution sets.
While you're at the expo, take the time to delve into the show's additional offerings, such as hands-on demonstrations and networking opportunities with fellow industry leaders. Also plan to visit us at booth S3911, where you can witness the contributions we're making to the broadband industry.
Fiber Ancillaries/Tools
Fiber Cabling & Duct
Multi-Dwelling Units
Single-Family Units
Wireless
Visit our event page for more details on the Utility Expo, and to schedule time with our experts.
We look forward to welcoming you at our booths throughout the month, where you can explore our latest connectivity technologies and innovations. If you're unable to visit us in September, we'll be back on the road throughout October at SCAT India, WISPAPALOOZA, Fiber Connect LATAM, and SCTE's Cable-Tec Expo! Be sure to visit our events page to find the next trade show near you.