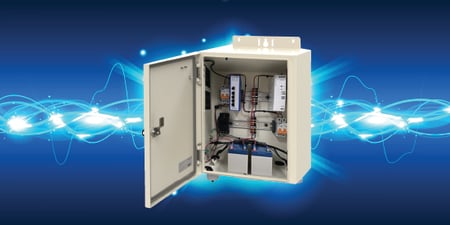 PPC Broadband ("PPC"), a leading developer and manufacturer of connectivity solutions for broadband and wireless applications, is pleased to announce the introduction of its WISP Enclosure at the 2022 WISPAPALOOZA exposition in booth number 413.
Designed to specifically meet the needs of wireless internet service providers (WISPs), PPC's WISP Enclosure features modular DIN rail mount components in a secure outdoor enclosure optimized for a range of wireless applications. The cabinet includes AC outlet, DC power supply, power-over-ethernet (POE) switch, and battery backup, and includes passive cooling with air flow on all sides. The DIN mounting brackets provide ample clearance and access to the components. Two cable glands accommodate cables .250"-.490" that allow for separate routing of power and communication cables in and out of the cabinet. The solution is constructed of robust .125" aluminum and is sealed to protect vital network components from environmental exposure.
The WISP Enclosure is the latest entry in PPC's growing wireless solutions portfolio. It is one of many integrated cabinet designs available from PPC, along with a breadth of fiber terminals, fiber to the antenna (FTTA) cable assemblies, indoor and outdoor category cable, category assemblies and connectors, and outside plant enclosures.

This broad range of solutions encompasses fiber product and copper product categories, enabling PPC to support customers regardless of network design, component needs, and future plans. Whether for a next generation wireless application or a fiber-to-the-home (FTTH) architecture, PPC is positioned to support wireless service providers, regardless of need, in all regions of the country.