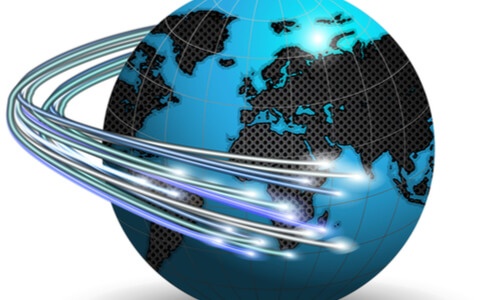 Fiber-optic broadband is changing lives around the globe - whether it's enabling people to work and study remotely, the rise of more clever and connected gadgets, increased demand for digital storage methods, or the simple pleasure of streaming Ultra HD TV.
In this blog post, we look back over some of the highlights within the fiber industry over the past year, with a roundup of news, developments and innovations from around the globe.
U.S. and Alaska
The Fiber Broadband Association released a new white paper, The Road to 5G is Paved with Fiber, in December 2017. It highlights the crucial importance that fiber broadband is going to play in supporting the next generation of 5G wireless networks. A panel of industry experts came together to discuss the findings, including President and CEO of the Fiber Broadband Association, Heather Burnett Gold, who commented: "Fiber broadband is an integral part of the 5G story and we are glad to be telling that story and sharing this key research. Fiber-connected 5G can and will accelerate the connected future for our country, our businesses and our communities."
Bandwidth services provider Quintillion completed the installation of the Alaska Arctic portion of its international subsea fiber-optic cable system in October 2017, launching it into five Alaskan communities in early December 2017. The cable system delivers gigabit and higher bandwidth services over a 1,400 mile network and is anticipated to help spur economic development, empower local businesses and provide consumers with access to video and other high-speed applications that were previously unavailable or unaffordable. The network has been built to withstand the harsh weather conditions and seasonal changes associated with an Arctic climate. It forms just one part of the Quintillion project which, when completed, will connect London and Tokyo and will be the first fiber-optic cable to cross the Arctic.
Latin America
Chile's plans to expand its undersea fiber-optic network across the Pacific to China and south to Patagonia attracted interest from international companies, including Amazon, in June 2017. While Chile is considered one of Latin America's most developed countries in telecom terms, telecoms undersecretary Rodrigo Ramirez announced it is seeking to consolidate its existing networks. The project will connect Patagonia as far south as Puerto Williams, on the tip of Cape Horn, and will be the most southerly cable in the world. Amazon is looking to expand its cloud business internationally and has signed an understanding with Chile to help modernize the country's government systems.
Ireland
In December 2017, digital magazine Lightwave reported on the collaboration between SIRO and Huawei to successfully test new XGS-PON fiber optic technology. The test is the first 100% fiber-optic broadband network in Ireland and forms part of an ongoing project to future-proof Ireland's broadband requirements and provide "ultra-fast" broadband speeds. SIRO Commercial Director Roman Whelan described the trial as a demonstration of how important fiber network rollouts are to provide the platform for growth. "Blistering fast speeds have been obtained using the exact same network that carries SIRO's 100% fiber-optic broadband services to homes and businesses across Ireland," he said. "All we are doing is changing the electronics at either end, with no further construction required."
UK
BBC news reported in September 2017 that the government had selected six regions across the UK to trial a new "full-fiber" broadband technology. Businesses, schools and hospitals in Aberdeenshire, West Sussex, Coventry, Warwickshire, Bristol, West Yorkshire and Greater Manchester were invited to participate in the pilot fiber-optic installation scheme, which will cost approximately £10 million to implement. Full-fiber networks are only currently available to about 2% of UK premises and the government hopes the project will significantly boost the availability of the technology. The FTTP technology can support broadband speeds of up to 1Gbps, sufficient to download a television program in HD in 5 seconds. UK Exchequer Secretary to the Treasury, Andrew Jones, said "How we live and work today is directly affected by how good our broadband connection is." Faster, more reliable broadband connections will create jobs, help new industry to emerge and enable people to work more flexibly, he said.
Canada
Tiger Infrastructure Partners announced its investment in Canada-based fiber-optic network services provider Crosslake Fiber in December 2017, which will enable an expansion of Crosslake's undersea Toronto to Buffalo network. CEO of Crosslake, Michael Cunningham, commented "Crosslake will enable the purchase of new, diverse dark fiber between Canada and the U.S., allowing carriers to displace leased fiber and add diversity. We are excited to partner with Tiger Infrastructure to grow the Crosslake Platform." Crosslake's high-fiber count submarine cable system should be ready for use in September 2018.
Asia-Pacific
FTTx is predicted to be the strongest growing fixed broadband access in Asia-Pacific, growing at a compound annual growth rate (CAGR) of 35% by 2022, according to analyst house Dataxis. China is by far the largest contributor to this growth, which accounts for nearly 80% of the FTTx connections out of total Fiber Broadband Bundles (FBBs) in 2016. China's market leader is China Telecom, with 117 million FTTx subscribers as of June 2017. In Australia, Vodafone is looking to the National Broadband Network to establish its own fiber network, and fiber-only operator MyRepublic is sizing up the demand for 100% fiber-optic plans across New Zealand, Australia, Singapore and Indonesia.
Africa
Google Inc. scaled up its investment in Africa in 2017 with the laying of 600 miles of fiber optic cable in Uganda and another 600 miles of fiber across Ghana. The investment is part of the technology giant's commitment to enabling greater connectivity across the continent and forms part of a program that aims to provide ease of access to affordable phones and increased training of digital skills across the workforce. Google's South Africa head, Luke McKend commented "Training people in digital skills has a larger economic impact than just making them more employable. They also help those around them to get online and can become job creators and entrepreneurs themselves."
Europe
In November 2017, Spanish private communications company Telefonica successfully completed a pioneering project using plastic optical fiber (POF) in a home network that guarantees gigabit speeds to the consumer. While an official launch date has not yet been confirmed, online reports suggest the new technology could be launched within the year. The pilot scheme was conducted in 30 homes, with each home network consisting of a wired backbone using POF to connect to four wall outlets and 60GHz Wi-Fi from each access point. This helped provid gigabit-speed and wireless coverage throughout the home. Like glass fiber, POF is resistant to electromagnetic interference, which means it can be installed in any in-wall conduits within the home, including ones that contain power cables.
India
The rapid increase in data traffic in India has highlighted the critical need to continue to invest in fiber broadband infrastructure in order to be economically competitive, as reported in online telecom publication TelecomLead.com. India currently boasts a FTTh/B rate of just half a percent, one of the lowest in the region, according to FTTh Council Asia Pacific. Under the Digital India initiative, the Indian government aims to supply internet access throughout the whole country, connecting more than 600,000 rural citizens.
Super-fast broadband connections are on the rise around the world, with recent OECD figures estimating as many as 15.8% of broadband connections being fiber-optic, in the areas it surveyed.
As we've also seen over the past 12 months, fiber has the potential to make a dramatic difference to those living in poorer countries - with the power to connect individuals in the most remote of locations and bring with it a raft of improved educational and ecommerce opportunities.