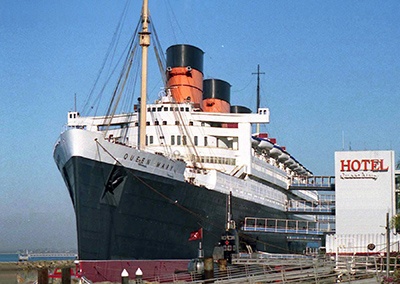 The Queen Mary is an iconic ocean liner that was a byword for luxurious travel for over thirty years, transporting celebrities and royalty across the Atlantic at then record speed. Now a floating hotel, attraction and venue she dominates the waterside in Long Beach California, where she has been moored since 1967.
Since her maiden voyage in 1936 the Queen Mary has always been at the forefront of technology. In 2012 fiber connectivity was installed to the liner and the surrounding retail sites to provide faster communications for hotel guests, on-board restaurants and retail units.
However this FTTx Outside Plant (OSP) installation needed to overcome two major problems to succeed:
1. Cost effective.
The installation had to be commercially viable – but traditional trench, blow and splice methods of fiber installation were simply too expensive for the site.
2. Easy to manage.
Even though it is moored the Queen Mary is a living, evolving ship. Therefore the network had to be easy for the internal team to manage, expand and adapt without needing specialist skills or dramatically increasing their workload.
OSP installer, Ancom Communications selected PPC FTTx products to solve these cost and management issues and deliver a network that met the specific needs of the Queen Mary, now and in the future.
By using a combination of micro trenching and PPC's Miniflex cable and TuffDuct Ultra microduct, Ancom achieved a 60% reduction in installation costs. Micro trenching was dramatically quicker than traditional excavation methods – what would normally take a half a day of digging could be achieved in just 30 minutes, minimizing both labor costs and disruption. The slimline 10mm TuffDuct fitted easily into the micro trench, resisted the high temperatures of bitumen backfill and was flexible enough to be routed around tight corners. This enabled Ancom to micro trench 95% of the 5 mile route, with PPC's flexible microducting allowing the remaining 5% to be installed above ground, routed over and around major obstacles.
Ensuring that the network was straightforward to manage and extend meant that Ancom needed to work with a single manufacturer that had a product range that covered all eventualities. Again, PPC met all the criteria, with its patented pushable fiber and pre-terminated cables and nodes easy to install by non-expert technicians without expensive equipment such as blowing rigs.
This means the Queen Mary's in-house team are able to maintain and change the network themselves. Extending the network is simple – employees simply pull out existing fiber, reconnect the duct, push the fiber back and make a connection without needing a splice.
As the Queen Mary approaches fifty years moored at Long Beach, thanks to Ancom and PPC she now boasts a state of the art, future proofed, fiber optic network to meet her needs well into the 21st century.