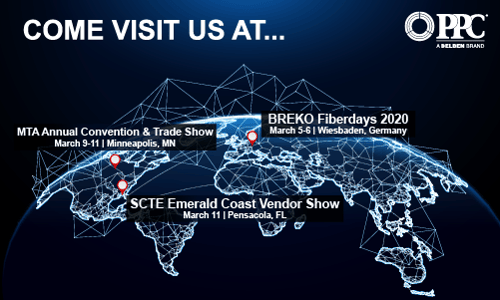 PPC is attending two exhibition events in March with an emphasis on our fiber solutions and products that range from the headend to the home or MDU (multi-dwelling unit). Here we're previewing what you can expect if you visit our booths at these upcoming shows, and where you can find us in the exhibition halls.
BREKO Fiberdays 2020
UPDATE: The BREKO Fiber Fair in Wiesbaden, Germany has been postponed to October 13 to 14 due to coronavirus. Please visit the BREKO website for further information.
We apologize for any inconvenience. We will keep you updated on our participation as the new event date approaches.
MTA Annual Convention & Trade Show
The MTA (Minnesota Telecom Alliance) Convention and Trade Show is taking place in Minneapolis, MN, on March 9 to 11.
PPC's Telecom team will be on hand at Booth 26, discussing with customers our focus on fiber growth. We'll display our core Miniflex® cable products, FutureLink® SFIT enclosures, FlexPON™ enclosure and more.
Fill out our form to request more details or schedule a meeting with us while you're at the event.


SCTE Emerald Coast Vendor Show
We'll also be attending the one-day SCTE Emerald Coast Vendor Show on March 11 in Pensacola, FL.
Our tabletop space will feature some of our newest products from the recent acquisitions of SPC and OPTERNA, including splice-and-play, customizable cabinets and collector terminal plates. We'll also continue to discuss our most widely known fiber solutions, such as the Miniflex cable family of products and PPC's broad range of optical passive products.
If you're interested in learning more about our end-to-end fiber solution, but can't attend any of the events listed above, submit your information in the forms previously linked to in this blog or contact our customer service team directly at customerservice@ppc-online.com.