UPDATE: As of June 5, our efforts with R&D Design have resulted in the production of more than 46,000 visors and clips for healthcare workers, police officers, fire departments, court officials, factory workers and more.
These face shields have been distributed to those in need in Syracuse, NY; and shipped to others in Manhattan, NY; New Jersey; Beverly Hills, CA; and Los Angeles, CA. Thank you to everyone who helped make this possible!
PPC Supports Syracuse Effort to Combat COVID-19
While working internally to ensure uninterrupted service and support to global customers, PPC Broadband is also finding ways to support local efforts to combat the COVID-19 virus worldwide.
A Central New York couple is working to make face shields for healthcare workers using 3D printers. Not only are they creating the face shields at their own home, but they have also made available a template and instructions for people around the world to download and fabricate shields using their own 3D printers.
PPC's Involvement to Fight Coronavirus
PPC's Operations Team at the Syracuse, NY, headquarters heard about this effort and offered to help.
We supplied the couple with assembly tables, packaging materials, disinfectant, production site layouts and more. Through our local network, we were able to source many items for free or at a reduced cost.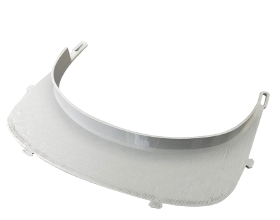 Our engineers are also working with our supplier, R&D Design Associates, to develop a mold that will increase production from the current 350 shields per day to more than 1,000 shields per day.
Our team is adjusting the use of our own on-site 3D printers to make components as well. The part shown in the photo was the first one printed at PPC.
Visit this website to download the face shield template and instructions.
To complement actions taken to support the local face shield initiative, PPC also recently donated more than 5,000 surgical masks to St. Joseph's Hospital and the Syracuse Community Health Center, one of the areas first COVID-19 test facilities.