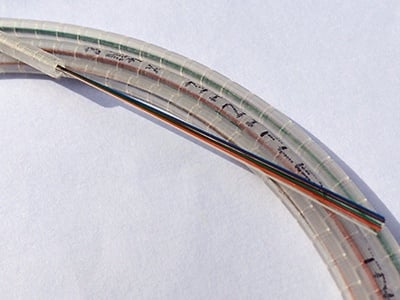 Previously ensuring physical fibre security has been difficult. All this has changed with the launch of PPC's Miniflex clear fibre cables which allow quick, efficient, instant checking of the cable route to ensure all is well. The cable is based on a simple idea – being clear, it lets staff see, at a glance, if there has been any attempt to tamper with the fibre inside. Checking is quick and doesn't require specialist equipment or training, meaning any member of office staff can monitor security, with no disruption to operations. Already deployed around the world, it delivers a new level of physical security to fibre networks.
Protecting vital fibre links is crucial to keeping every organisation operating, meaning they need to be tough, reliable and secure. And security is increasingly important. The rise of computer networks has been mirrored by the growth of hacking, as outsiders search for ways to get hold of confidential information. Organisations therefore spend millions on protecting data and it is critical that fibre cables aren't the weakest link.

Transparency is just one of the advantages of the new Miniflex cable. As it is needs to be installed internally in a wide range of buildings, it shares the same ultra flexible, ultra lightweight and ultra tough capabilities as the rest of the Miniflex range. This makes it easier and faster to deploy, particularly in constrained spaces where it needs to be bent around obstacles and has to fit through the smallest gaps.

Its pushable construction makes it straightforward to install the fibre by hand, without expensive blowing machines, reducing deployment times and minimising disruption. And you don't need specialist, trained technicians to install it, further reducing cost and time. Built on our patented technology, it doesn't kink and has high crush resistance, increasing reliability in the field.

Available in 3mm diameter cable for 1 to 12 (250um) fibres and 5mm diameter for up to 24 fibres. Standard fibre types are available in Single mode and Multimode from tier 1 manufacturers OFS and Draka, while other speciality fibres are available on request.

In today's security conscious world, fast, secure transmission of data is central to every organisation. Protecting high value information is therefore critical. Through the Miniflex transparent cable, organisations benefit from a clear view of their fibre networks, increasing security without impacting performance.