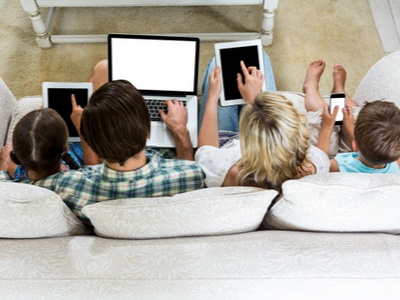 In today's technological world, internet speed is important to everyone. Almost every household has multiple web-enabled devices, and with the Internet of Things (IoT) driving increased home automation, it's not just laptops and mobile devices in the home that will rely on the internet, but everything - lights, appliances, windows, blinds, you name it. Access to high-speed internet is now a top priority for people when moving home or relocating to a new area.
The reliance on high-speed internet is undeniable, and unstoppable - and not just for in the home - for businesses, governments, and network operators too.
It's no wonder that people are rushing to fiber around the world. According to the OECD, fiber accounts for 21.2 percent of fixed broadband subscriptions across 35 countries - a 15 percent jump from 2015.
Here's a mid-year roundup of what has been happening in the global Fiber to the Home (FTTH) broadband market.
North America
According to the Fiber Broadband Association, true FTTH connectivity saw a 16 percent growth in 2016, with 13.7 million homes in the U.S. now connected by fiber. While availability is lowest in rural areas, share is highest.
And the Fiber Broadband Association's 2017 State of Broadband Update shows fiber is winning the speed race, hitting growth records in North America. FTTH download speed rocketed from just under 50 Mbps in 2016 to over 60 Mbps this year. Cable Modem offers the closest competition, reaching 50 Mbps.
FTTH upload speed is miles ahead of others, reaching over 30 Mbps this year, having been just off the 30 Mbps mark last year. It's far ahead of Cable Modem, it's closest competitor, which offers an upload speed of just over 10 Mbps.
There is a big FTTH market in the U.S. with more than 1,000 providers. The big players (Verizon, AT&T, CenturyLink and Frontier) are increasingly facing competition from smaller providers. In the last few years, these smaller players have taken over more of the FTTH build, now accounting for 48 percent in aggregate compared to just 17 percent during 2004-2013.
Asia
China has the largest broadband subscriber base in the world, and fiber has overtaken DSL to become the key fixed broadband technology platform. According to Digitimes Research, the number of FTTH subscribers increased to 227.7 million at the end of 2016, accounting for 76.6 percent of all fixed line broadband access subscribers.
A report by iDate Research for the FTTH Council Asia-Pacific, shows that Singapore has 95 percent FTTH penetration, South Korea 82.9 percent, Hong Kong 71.4 percent and Malaysia 16.4 percent. Governments across Asia are pushing for more investment in fiber broadband, so these figures are expected to continue to rise.
iDate Research also shows India as far behind, with only 1.25 million FTTH connections, accounting for just 0.5 percent of the total households. However, there is a big drive to increase penetration, with service providers Bharti Airtel and Reliance Jio Infocomm making aggressive moves into fiber. Just this month BSNL announced the launch of its new network, which will take their FTTH broadband speed from 100 Mbps up to 1,000 Mbps.
Europe
According to research by iDATE for the FTTH Council Europe, the total number of FTTH/B subscribers in the EU stands at 20.5 million, representing a 9.4 percent penetration rate. If we include the CIS countries, that figure rises to 44.3 million.
Spain leads the way in subscriber growth rate. Between 2015 and 2016, subscriptions grew by 72 percent from around 2 million to 4.5 million. The other largest markets are France (3.2 million subscribers with 32 percent growth) and Romania (2.7 million subscribers with 17 percent growth).
In terms of household penetration, Latvia leads the way with 45 percent, followed by Sweden (40.7 percent) and Lithuania (40.3 percent). Two new countries have entered the ranking; Austria and Serbia, both reaching 1 percent penetration. Predictions for 2019 have Latvia remaining on top with a projected penetration rate of 60.3 percent. The UK is bottom of the league table, with a predicted FTTH penetration rate of just 1.6 percent by the end of 2019.
These figures show a strong drive toward FTTH in many areas of Europe. France plans to bring high-speed broadband service, mainly based on fiber infrastructure, to every home, business and government office by 2022.
Middle East
Worldwide, the fiber leader is the United Arab Emirates with 93.7 percent penetration in 2016. Both telecom operators, Etisalat and Du, have invested heavily in fiber. Etisalat has invested more than 28 billion dirhams (7.63 billion U.S. dollars) in the fiber network infrastructure.
Africa
According to Research and Markets, the total number of FTTH connections in Africa passed the 500k mark in 2016. Recent growth has been strong, with around 75% of Africa's FTTH connection growth since 2010 having occurred between 2014 and 2016.
South Africa is playing a key role in driving Africa's 'FTTH boom.' Fiber subscriptions are exceeding new ADSL subscriptions, and many ADSL users are migrating to fiber when it becomes available in their area.
These latest figures show the impressive growth of the FTTH market. Broadband providers are committed to providing a high-speed, reliable internet service to meet increasing demands, and are jumping to fiber to deliver. We expect growth to continue even further in the coming year. It will be interesting to see which markets stay ahead of the trend as IoT moves us toward a smarter, more connected world.