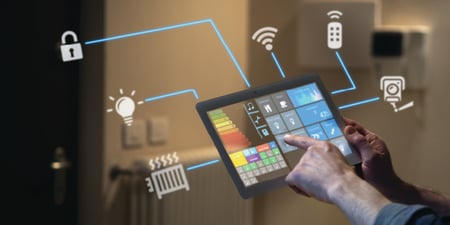 One of the questions asked about fiber to the home (FTTH) networks is simple – what are the applications that will need the high capacity and speed that they offer? And how can operators increase revenues around FTTH by providing new services that will differentiate them from their competitors?
In previous blogs, we've discussed the impact that streaming 4K TV services will have on bandwidth needs. In this post, I want to talk about the rise of Smart Homes and how this will impact the operator.
There's a lot of talk about the Smart Home (particularly around the Internet of Things) – so, what is it and why does it matter?
Defining the Smart Home
Put simply, a Smart Home uses technology and connectivity to monitor itself and provide constant information on what is happening within it. This includes:
Home Automation – allowing consumers to control appliances remotely through their smartphone. Many appliances, from washing machines to coffee machines, can now be switched on from outside a house, along with lights. According to ABI Research, smart home automation is projected to reach $31 billion in 2022.
Home Security – providing monitoring through CCTV, fire and smoke alarms, and door and motion sensors, so that you can protect your home and contents
Energy Management – smart thermostats mean you can up the temperature when you leave the office so that the house is warm when you arrive home. By monitoring temperatures in real-time, homeowners can also increase energy efficiency – for example, seeing savings instantly when an appliance or light is switched off. Smart homes use an estimated 30-40% less energy on average.
eHealth – monitoring the wellbeing of those within the house, delivers major healthcare benefits. Sick or injured patients can remain independent in their homes while being monitored through video cameras linked to medical staff, who are on hand to deal with emergencies that may arise.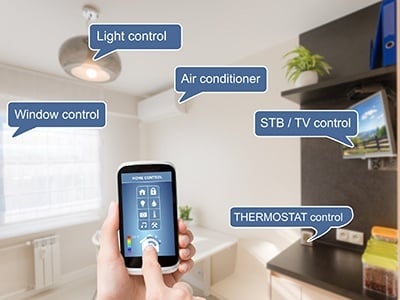 The sensors used for monitoring and controlling a Smart Home are part of a number of connected devices, under the Internet of Things (IoT).
Statista expects to reach $1,058 billion total annual revenue worldwide in the IoT market while Gartner believes there will be 500 IoT-enabled devices in every home by 2022.
The Bandwidth Needs
While every one of these individual devices connected to the Internet will not require a huge amount of bandwidth, some applications (such as video), will need more, adding to the load on existing broadband networks. When you also add in other bandwidth-hungry applications, such as 4K TV and video calling, it is clear that more capacity is required for last drop connections.
The Smart Home, therefore, provides a challenge for operators, as they'll need to increase capacity to meet consumer needs. However, it also offers a major opportunity to deliver more services to these customers and differentiate themselves from competitors.
As the market is in its infancy, there are a large number of products available, working to a range of standards, which means that many consumers are put off from installing Smart Home devices due to worries about complexity and support. Operators can help overcome these fears as they have an existing relationship with consumers, a large technical support/installation team, and most importantly, CPE/ONT equipment within the home that can be adapted to deliver Smart Home services. It opens up a new revenue stream and enables operators to avoid being seen as a provider of "commodity" bandwidth services. Some companies are already offering Quintuple Play packages (phone, TV, internet, mobile, and Smart Home) to consumers, with others planning to enter the market.
The growth in the Smart Home market is accelerating, with more and more companies launching products that enable us to control our homes, order groceries online and protect our possessions. However, high-speed, reliable connections are vital if the Smart Home is to become a mainstream reality – and with its bandwidth needs, that means operators need to look at FTTH connections if they want to benefit from this potentially lucrative new market.