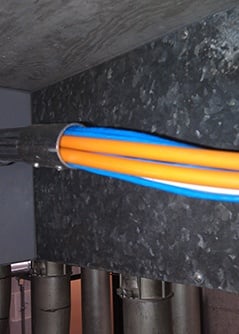 Cost-effectively rolling out new cellular infrastructure is critical for carriers looking to compete in increasingly demanding markets. Technologies such as 4G are crucial to providing the robust, high bandwidth data networks that subscribers want, but deploying them, particularly in complex urban areas, can be difficult. Existing infrastructure, such as around cellular towers, has been built up over years and cannot be removed or replaced. This can make it hard to add new equipment, leading to a headache for both network planners and installers.
Planning a 4G cell tower rollout
To solve this problem a tier 1 US cellular operator used the unique strengths of PPC's Miniflex microduct and fiber cable to connect a key cell tower to 4G and its existing backhaul network.

Located on the roof of a ten floor hotel, in a busy urban area, the existing internal riser was full of cable, meaning the telco's options were limited – it could install a whole new riser system (too expensive) or expose the new fiber on the side of the building (likely to be vetoed by the hotel owners).
Deploying around 90 degree bends - 22 times
Working closely with the contractor and network planner, we surveyed the site and they identified a potential route, through an internal riser. But it certainly wasn't easy. Stretching from the roof to the equipment room in the basement it included:

• 22 different 90 degree bends
• A 100 foot traverse from the south to north side on the 10th floor
• Routing down to the first floor and then a 80 foot traverse from east to west
• And all of this within a 1 inch electrical conduit that was already occupied!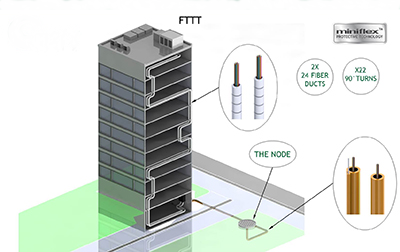 We deployed our 10mm microduct as an access inside the two existing, exhausted 1 inch ducts, taking just 3 hours to install. The 24 fiber cable was then pushed from the penthouse all the way down to the equipment room in both ducts. Thanks to our patented pushable technology the patented low friction and low static P-DVC™ liner within the microduct, the cable didn't even need a pull string.

The combination of flexibility, strength, lightness and small size made the Miniflex indoor micro duct the perfect solution for this incredibly complex installation. By using our pushable solution it took just one working day (8 hours) in total to install fiber to the tower, removing a potential bottleneck on the 4G rollout and amazing both contractors and client.

With existing riser infrastructure becoming more and more congested, network planners and installers are faced with increasingly complex challenges when rolling out new fiber. Whether it is deploying Fiber to the Tower (FTTT) or within Multiple or Single Dwelling Units, PPC has the flexible, pushable fiber solution to speed up installations and remove complexity.