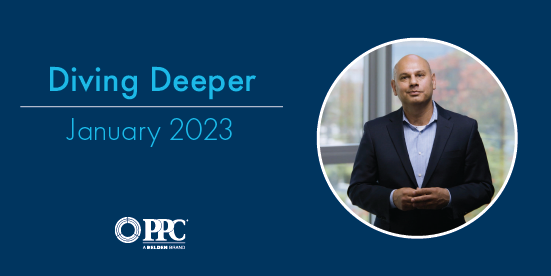 The year 2022 was full of milestones, growth, and innovation for PPC and the broadband and 5G industry. As we flip our calendars to the year 2023, we're reflecting on the change PPC has seen in industry innovations and our brand promise for improving the digital world in the New Year. Follow along in this blog as PPC, a Belden Brand, President Anshu Mehrotra shares his thoughts on key topics from artificial intelligence to the future of fiber.
Artificial Intelligence (AI) and 5G Innovations
A recent article identified AI and 5G as the top innovation drivers now and into the future. In it was an observation that is interesting: 5G needs AI, and AI needs 5G. They both support — and act as catalysts for — each other.
This makes a lot of sense. AI predictions and automation can improve the performance and efficiency of the entire 5G ecosystem. And the proliferation of 5G (and the devices that use it) helps drive insights that lead to improvements in AI-based learning and inference.
This 5G-AI dependency is a perfect example of the convergence of data and 5G. And it's yet another reason why PPC focuses on delivering 5G, wireless, and broadband solutions that ensure that data in all its forms gets to its intended destination.
For further details about AI and 5G, check out this article published by Entrepreneur.
Transmitting Data Through Fiber Optics
In October 2022, a team of researchers in Sweden set a new data transmission record, hitting 1.84 Petabits per second with a new chip that uses just a single laser. These researchers are part of a global movement that is looking for ways to enable infrastructure to move data more efficiently.
Light from a single infrared laser source enters the chip. It's split into a wide spectrum of hundreds of different channels that can each be encoded with data and recombined back into a single beam. That beam is transmitted down a fiber optic cable and then decoded on the other end.
PPC uses similar concept in fiber-to-the-home (FTTH) solutions today. It allows service providers to optimize the use of existing fiber infrastructure to dramatically increase bandwidth by muxing and de-muxing disparate wavelengths creating improved experience for its customers—and it's a sign of what that fiber can do as more of it is installed.
To read more about how researchers managed this high-capacity transmission, visit the article by Gizmodo.
Reflecting on PPC's Contributions to xTTx®
The start of a new year is a good time to reflect on how well we're supporting our brand promise to build the foundation for a digital world.
The year 2022 was full of milestones for keeping that promise. As the installation of fiber ramps up, our newest fiber-to-the-"X" (FTTx) end-to-end solutions are designed to meet the needs of virtually any network architecture and topology and address deployment challenges such as labor shortages and skillset requirements. For example, there's our turnkey integrated cabinet that is ready to install for FTTH and 5G rollout without extra labor.
In the summer, we opened a state-of-the-art, immersive, advanced design and manufacturing facility in Kochi, India. The PPC team also took time out of all this innovation to celebrate our 80th anniversary, and PPC's parent company, Belden, began a year-long celebration of their 120 years in business. We're looking forward to even more innovations in 2023.
As PPC continues to lead innovation and conversations in the broadband and 5G space, President Anshu Mehrotra will share his insight and thoughts on LinkedIn and in routine blogs on our website. If you haven't already, connect with Mehrotra and PPC on LinkedIn so you don't miss out.