Extending high spee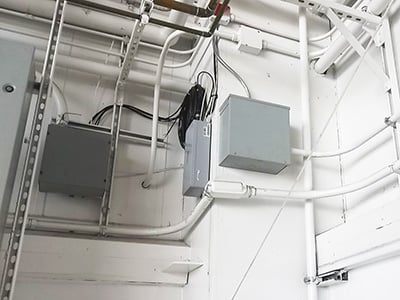 d fiber access through inside plant installations within buildings is often difficult, expensive and time consuming.
Often installations have to fit within very small spaces, such as congested ducts, and take up as little real estate as possible so as not to interfere with working areas. The environment is dynamic - floor plans change and new equipment is installed, so deployments need to be flexible and easy to upgrade, and if necessary re-route.
Fiber has to be protected with cables and ducts that are tough enough to withstand wear and tear from a whole range of enemies, such as accidental knocks from rogue technicians/installers, as well as needing to be small and easy to install. Protecting business critical data and communications that travel over fiber cables is a priority, but this requirement can be in conflict with the need to save space.
Conventional Inside Plant fiber protection – heavy and costly
Consequently, the traditional method of protecting fiber with inside plant installations has focused heavily on strength, with steel EMT conduits and armored plenum cable being used to guard fragile fiber. Used in tandem, they are a reliable combination but in today's in-building environments, are unwieldy and cumbersome. There's also greater potential to cause disruption to the customer's business operations, and this option is more time consuming and expensive to deploy as it requires additional manpower/resources to physically place the fiber cable. Often significant reinforcement of existing structures is required to support the weight of the steel conduit and armored cabling.
In dynamic inside plant environments, with an ever-shrinking space for physical hardware and a need to minimize interruptions to business operations, installers and carriers are therefore looking for alternatives. Washington state operator, Comcast, was faced with this challenge in two separate projects – one within a hangar for a major airline and the other for a large datacenter.
Comcast adopts alternative inside plant deployment methods
After reviewing the market, Comcast chose to work with PPC's Miniflex fiber duct and cable solutions for both installations. Miniflex has a much smaller footprint than conventional steel conduits, while still being rugged enough to protect fiber in the toughest conditions.
The deployment at the airline's hangar, situated at SeaTac airport, had to meet stringent construction specifications, which included anchoring systems that would be earthquake-proof. Using the traditional steel conduit method would have required every attachment to be specially engineered, adding hugely to time and cost. Instead, Comcast installed its Metro Ethernet service using a pre-connectorized cable from the site to the hand-off point, a distance of 820 feet. This was protected by specialist micro duct outside the building and with Plenum duct within it.
The whole implementation was completed within a day – with steel conduit it would have taken double this time, as well as requiring 30 days to get the solution engineered and approved by the Port of Seattle Authority, which runs the airport.
Upgrading fiber in a mission critical datacenter
For the datacenter, Comcast needed to upgrade connections within the building, without disturbing existing infrastructure. It ran two 24 count fiber cables from the Main Distribution Frame (MDF) room to the datacenter itself, pulling the cable through existing pipe. The pre-connectorized cable was then placed in position, run through ladder racks and attached to complete the network.
Overall, Comcast has been able to upgrade connectivity quickly, cost-effectively and with minimal disruption to its customers. As the cables and ducts are small and lightweight yet ruggedized, fewer people were needed for the installation, while costs were further reduced as pre-connectorized cable could be pushed into place by hand, without expensive and cumbersome blowing or splicing machines.
Businesses today rely on the power of fiber networks to run their operations. However in dynamic inside plant environments, traditional methods can simply be too bulky, expensive and time consuming to deliver the right results. As Comcast has shown, the combination of well-planned deployments and pushable and ruggedized fiber and ducts can help, delivering the benefits of fiber while minimizing disruption and cost.