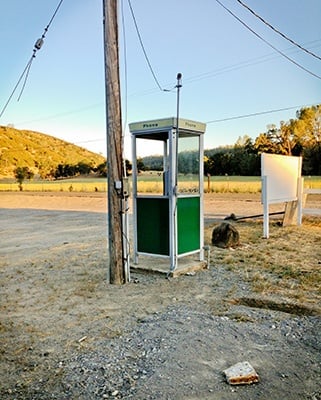 High speed fiber broadband networks enable businesses to be more productive, open up new services to citizens, students and patients as well as letting households do more with their leisure time, wherever they are located.
Rural fiber deployment - the benefits
The positive impact of fiber networks can make a particular difference in living standards in rural areas:
Better connections mean that people and businesses don't need to migrate to bigger cities to live and work, and local economies are boosted by incomers who move into the area or tourists that visit.
Fiber is also important as cellphone coverage in rural areas can be patchy, due to the cost of installing towers and masts across sparsely populated countryside.
Students can access college or high school courses over the internet, cutting out disruption caused by snow days.
Traditional rural businesses, such as farmers, also benefit. They can access the latest commodities prices and decide when and where to send their crops or livestock to get the best price.
Tourism also benefits as visitors increasingly expect to be able to instantly post photos and video of unspoilt national parks on social media from their tablets, smartphones and computers.
Overcoming the installation barriers
In many ways deploying over the last mile of broadband networks is similar whether you're in a city or the countryside. The environment can be physically challenging, with natural or man-made obstacles and a need to cause minimal disruption. Rural locations often face more extreme weather, such as tornadoes, but digging up city streets and connecting older buildings, such as brownstones, with already congested ducts provide equal challenges.
The major difference is simply one of population density, and consequently cost. With fewer potential subscribers reached by a rollout, the infrastructure price per connection is much higher, often making it uneconomic to implement without government or state subsidies. Demonstrating the difficulty of investment, many rural subscribers still have shared networks (a development of party lines) as their main form of communication.
Many rural areas are served by smaller carriers, especially in the United States. This means they don't have deep pockets to fund investment in new technology, or the skills and experience in implementing it. Cost also limits the technology choices available – rather than a full fiber network, rural operators also use point-to-point microwave transmission to cover large distances without physical cables.
Bringing down the cost of rural fiber
So how can rural carriers bring down the cost of fiber installations? Essentially it comes down to two areas – de-skilling deployments and reducing the CAPEX investment needed.
Reducing the skill levels needed benefits carriers in two ways. It means existing crews can be used for new fiber deployments without the need for expensive re-training, and also avoids the cost of bringing in often scarce specialist staff with particular skills. For example, technology such as pre-connectorized fiber means that installations don't need staff with fusion splicing skills, who are often in short supply in rural areas.
Large scale CAPEX investment is often difficult for rural telcos given their size and revenues. Buying or hiring expensive specialist cable blowing machines for use on a small scale is simply beyond their budgets, particularly when you add in the trained staff and transport costs required to get them onsite and operate them. Telcos can look at techniques such as pushable fiber, which removes the need for blowing machines in order to reduce CAPEX costs.
De-skilling rural fiber deployments and lowering costs brings installations within the budget of more rural telcos. As the operator can deploy to premises more cheaply, it can afford to roll out fiber to more people, expanding the market for its services and increasing its long term revenues, while benefiting everyone in the community through the power of high speed broadband.
Image 1 by Orin Zebest, Image 2 by Rennett Stowe