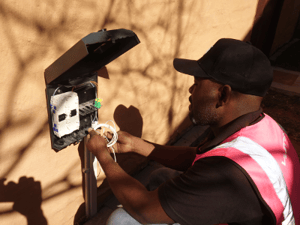 Since Dark Fiber Africa (DFA) first hand-pushed a pre-terminated Miniflex® fiber optic 240m from an existing manhole, through a standard 8/5mm duct and connected a 100Mbps business customer in July 2012, Miniflex has grown to become Africa's drop cable of choice for all leading FTTH (Fiber to the Home) providers.
PPC Broadband has deployed Miniflex in more than 12 countries across the continent and recently passed 250,000 FTTH customer connected. The PPC Miniflex fiber optic cable has withstood all obstacles in its path, standing head-and-shoulders against any other product available in the market today and continually evolves in design to address customer requirements as their networks organically grow more complicated.
Miniflex was pioneered by PPC to be the world's only hand-pushable fiber optic cable after they listened to their customers' pain points. Customers explained their average subscriber drop is less than 50m in more than 80% of the cases and the majority of network faults came from poor field splicing and badly installed drop cable.
By adopting Miniflex, the FTTH providers gave a proven solution to their installation crews that removed expensive blowing equipment, expensive splicing equipment and more importantly, the scarce resource of highly-trained engineers that may still be prone to installation errors.
Miniflex can be pushed up to 250m without air assistance and its live-hinge technology can navigate around almost any tight bend on route from the FDP to the OLT. With its plug-and-play factory-polished pre-termination range of options, a typical 50m installation can be performed within 60 minutes via existing electrical engineers. This pre-termination technology is made in South Africa to a customer's tailored requirements within 2-3 weeks.
"When we completed our first FTTH installation in 2012, we had no idea how the market in South Africa would explode in the way it did," says Simon Roberts, PPC Broadband Sales Director for Africa. "Before Miniflex, our customers were importing low-quality cables and 1 in 10 installations required re-working due to poor field splicing. We listened, we understood and we worked with Mustek to invest in localized production, support, stock and a service that continues to be second to none."
Since July 2012, PPC Broadband has strengthened its partnership with Mustek S.A who has invested heavily in local stock, but most notability in four pre-termination lines that have generated more than 50 jobs locally in Johannesburg. The partnership has also empowered more than 50 contracting firms who provide installation support and service to the FTTH providers and upgraded more than 250,000 customers to high-quality fiber optic services that will enrich their lives with a multitude of new lifestyle options.
"Our customer requirements can change from day to day, let alone week to week," Sean Lax, Mustek PPC Brand Manager said. "We pride ourselves in empowering their installations team through local support and training, backing their business case by building to forecast and going the extra mile to deliver on quality and price. That is why we are the pre-terminated fiber optic cable of choice."