PPC Broadband, Inc. ("PPC"), a Belden brand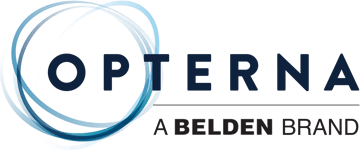 and leading developer and manufacturer of connectivity solutions, is pleased to announce two strategic broadband fiber acquisitions - the OPTERNA® family of U.S. and international companies ("OPTERNA"), and the FutureLink® family of fiber products from Suttle Inc., a wholly-owned subsidiary of Communication Systems Inc. ("CSI").
"These businesses complement our product road map with a set of innovative fiber connectivity solutions that we expect to enable further growth and share capture in our broadband business," said John Stroup, Belden Inc. President, CEO and Chairman of the Board.
OPTERNA offers a full catalog of fiber connectivity solutions for optical networks, while the addition of FutureLink provides an array of modular and stackable enclosures. The combined product breadth enables PPC to meet the needs of virtually any customer application.
PPC, with the addition of FutureLink products alongside the acquisition of OPTERNA, will provide an unmatched experience for fiber connectivity customers around the world.