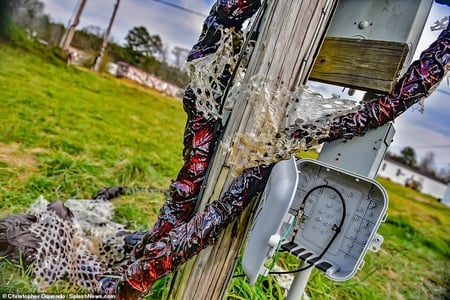 Whether you're building a new coaxial network in Hawkins, Indiana, or updating an outdated one in the Upside Down, the products used in the last-mile drop are among the most important.
New set photos from Season Four, debuting on May 27, 2022, of the popular Netflix series, Stranger Things,[1] were released and we couldn't help but spot several PPC coaxial products on the set, including our demarcation enclosure, Perfect Flex® coaxial cable, AquaTight® coaxial connectors and MoCA ground block.

Broadband Network Integrity on 'Stranger Things' Set
The set photos depict a glimpse into a mobile home park in the Upside Down, an alternate dimension that's full of mystery, snaking vines and scary creatures. Apparently, even the Demogorgon needs cable and phone service.
PPC understands the importance of subscriber satisfaction as the demand for content consumption continues to increase year after year. The ability of a network to carry a data signal will only ever be as good as the integrity of its individual parts. And while our most recent demand in the 21st century is for faster internet speeds, a reliable phone service is essential for the 1980s characters in Hawkins – how else would they save Will Byers?


Optimize Last-mile Networks with Quality Components
Today's last-mile network components provide flawless signal transmission, prevent ingress and egress, and protect against the harshest environmental factors. In this blog, we're highlighting some of the most important broadband products from the utility pole to the home in this world and in the Upside Down.
Perfect Flex® Messenger Coax Cable
The coax cable runs from the tap at the utility pole to the house box, and includes a corrosion-resistant protectant, designed to eliminate moisture migration into the cable. If moisture makes its way into the drop cable, it can cause damage to the physical layers of the cable, and can result in impedance mismatch. This cable's Perfect Guard® technology increases durability and is vital to keeping RF signals in.
PPC's Demarcation Enclosure
This enclosure provides a secure compartment for terminating coaxial cables and mounting a variety of drop components. Its weather-resistant thermoplastic housing keeps out unwanted moisture, bugs, critters, and even the occasional tendril or webbing.
AquaTight® Coax Connectors
PPC's connectors are built especially for the outdoors, and are perfect for a damp environment. Moisture migration, caused by lengthy exposure to environmental elements, is one of the main contributors to signal degradation in an HFC network. AquaTight's integrated weather seal streamlines installation and prevents this signal degradation due to moisture migration.
AquaTight® connectors can also feature SignalTight® technology, which ensures an uninterrupted signal transmission, even if the connector is left loose. We can only imagine the rush of an install if a field technician is connecting subscribers while also hiding from Demogorgons.
MoCA PoE Filter with Ground Block
This MoCA filter and ground block works in several ways – it minimizes the signal loss within a home, isolates the home from unwanted interference from nearby MoCA users and prevents subscribers from detaching the filter since it's attached to an electric grounding system. Using a MoCA filter, with or without an integrated ground block, is essential for every MoCA subscriber to prevent cross-interference.


All broadband products in the last-mile drop are essential and work together to provide a flawless network signal for the subscriber. While PPC can't directly help a group of teenagers save their town – and the world – from the predatory creatures of a parallel dimension, we can make sure Eleven and the gang stay connected.
PPC Broadband, Inc. and its affiliated companies ("PPC") reserve all rights to their graphic images and text, trade names and trademarks, logos, service names, and similar proprietary marks, and any other intellectual property rights associated with this publication. For instance, PPC®, Perfect Flex®, AquaTight® and other distinctive identifiers of PPC as used herein are or may be pending or registered or unregistered trademarks of PPC in the United States and/or other jurisdictions throughout the world. PPC's trade names, trademarks, logos, service names, and similar proprietary marks shall not be reprinted or displayed without PPC's or its affiliated companies' permission and/or in any form inconsistent with PPC's business interests. PPC reserves the right to demand the discontinuation of any improper use at any time.