I've just come back from sunny Moscow, where I attended a very busy Sviaz-Expocomm show. Officially titled the 26th International Exhibition for Telecommunications, Control Systems, IT and Communication Services, it covered the entire telecoms market, with a major focus on fiber networks. We took a stand as part of our push eastwards, building on m2fx's existing presence in Eastern Europe, where our fiber protection technology has been deployed in more than 40% of countries in the region.
One thing that stood out was the strength and prospects for growth in the Russian market. Recent figures from the Broadband Forum put Russia ahead of France when it comes to broadband penetration, with over 25.3 million subscribers in Q4 2013. Importantly, the vast majority of FTTX connections are Fiber to the Home/Building (FTTH/B), rather than the Fiber to the Cabinet (FTTC) deployments we're seeing across much of Western Europe. FTTH/B dominates in Russia (with around 60% of new retail subscribers), according to analysts Analysys Mason, with carriers currently migrating customers from DSL to fiber.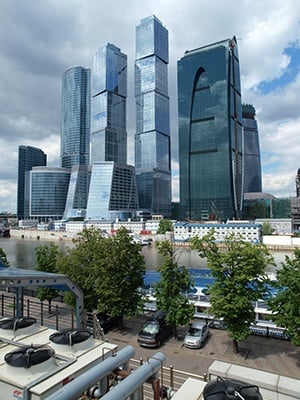 This was reflected in attendance at the show. Everyone I talked to, despite my poor Russian, was looking to fiber as the future, and major industry players were well-represented with stands alongside our own. Last year saw 22,000 visitors to the event and 600 exhibitors from 27 countries, covering 18,500 square meters in six halls. By my calculations the numbers were similar or even greater this year.
I was also extremely impressed with the imposing Capital City Moscow building adjacent to where the event was held – architecturally it really wouldn't have been out of place in the business districts of London or New York. A long way from the stereotypical Communist-era concrete creations of the past!
So what did I learn about the Russian market? Three things stood out:
1. FTTB is the technology of choice
Particularly in large cities, the majority of Russians live in apartment buildings. This means that Fiber to the Building is the primary means of deployment, with either a LAN or internal fiber then connecting individual subscribers. Installers and carriers I talked to had big plans for increasing fiber investment, but were looking for ways to deploying cost-effectively.
2. Toughness is compulsory
Environmentally, the Russian climate is a challenge. Given it was 25 degrees centigrade in Moscow, it was difficult to visualise how bad the weather actually gets. Sustained sub zero temperatures, snow, ice and wind all mean that fiber deployments need to be extremely tough. Aerial cables have to be capable of operating when loaded with ice, while buried cables have to operate when the ground is frozen.
3. The market is still growing - fast
The show was well attended with a broad cross section of attendees from CEOs to engineers and it has been really great to interact with them all. Operators and installers were equally represented, and are extremely sophisticated and technically knowledgeable. I spoke with people who have already deployed FTTB, interestingly through both overhead and underground deployments, on new build and existing streets, and of course to high rise apartment blocks. It really does back up the figures – the FTTH Council Europe highlighted that in 2013 Russia added 1.4 million new FTTH/B subscribers, and this expansion is continuing. Companies are keen to find the best solutions, both for FTTB, and also for LAN cabling, internally for apartment blocks and the huge number of new office buildings (often with 60+ floors) that are popping up all over Moscow.
It has been while since I last visited Moscow, but given the interest we saw and the growth in the market, I don't think it will be long before I'm back again...
Capital City Moscow building image courtesy of NVO