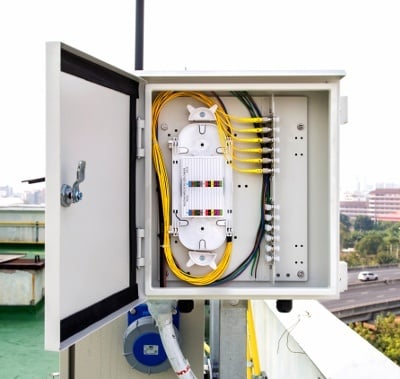 When rolling out a new fiber to the home (FTTH) network operators have to take into account multiple factors, including potential demand, deployment difficulty and cost.
However, when they have reached the point of greenlighting the project and begin to plan their FTTH network, there are further decisions to make. These choices can be the difference between a successful or failed project.
Based on my experience working with operators across the world, but particularly in Africa, I'd highlight eight decisions that you should pay particular attention to.
1. Deployment model
Do you take the route of outsourcing FTTH deployment to a third party or do you manage the project yourself? Ultimately, this comes down to two factors - do you have the right combination of skills in-house and how much control do you want over the process?
2. Network design
In an ideal world, every FTTH network would be designed from scratch to cover all future eventualities. However, in many cases, there is existing network infrastructure (either the operator's own, or third party capacity that can be accessed), meaning that beginning again would be much more expensive.
The issue with this hybrid approach is that maintenance costs can rise as different equipment, of varying ages, is made to work together, and it may not meet future requirements. What is needed is to take a best of breed approach, marrying new technology and existing, proven infrastructure, that allows you to live for the moment, yet plan for the future.
3. Running costs versus deployment costs
Many operators split out the CAPEX costs of installing a network from the OPEX running costs. Often, they are even parts of different departments and budgets. The problem with this is that the pressure is on installers to do the job as cheaply as possible, to stay under budget - leading to the use of substandard, unreliable equipment. Essentially, if this then fails, or the OPEX costs are someone else's issue.
The best way to overcome this problem is to take a holistic view and look at the lifetime cost of the network – avoid making short-term savings on individual components that will endanger the quality and long term reliability of the overall network.
4. Component selection
As operators move from trialing FTTH networks to deployments across whole countries (or even multiple countries), mindsets need to change. Rather than making decisions on topology and component selection for each installation, operators need to look for the economies of scale that a national approach provides.
Look at network designs that can be "copied and pasted" in particular areas, and enforce the use of quality components mandated by a central office. This approach will not only improve network quality but should also make the entire network easier (and cheaper) to maintain.
5. Follow standards
Especially in the developing world, there may not be national regulations that operators have to follow when it comes to network design and implementation or staff may not have previous experience of installing fiber networks.
In this situation, it is imperative to follow international standards from the likes of the ITU, IEC, and IETF. Essentially, these standards provide help in planning and delivering a quality implementation that will be reliable and long lasting.
For products look for ISO approved components as a bare minimum - otherwise you risk pushing up costs by having to replace faulty or low-quality parts of your network in the future.
6. Standardize on installation methodology
In the same way that operators should standardize on network design, they should also ensure that every installer uses the same deployment methodology. This approach will bring down costs and make maintaining the network easier. Work closely with installation teams to train and educate them on the methodology you choose, and ensure you give them the support they need to deliver a quality solution, time after time.
7. Invest in your staff
37 per cent of employees leave their job as they don't feel valued or understood. And given the shortage of skills in the telecoms sector, there are plenty of alternative employers for unhappy staff to move to. Create a positive culture that values all of your employees whatever their role, provide them with training and invest to help them develop. This will translate into greater productivity and staff loyalty, benefiting both the operator and the employee as well.
8. Realize the importance of fiber networks
Fiber networks, particularly in places such as Africa, have the power to change whole economies, and help citizens develop new skills, access education, start businesses and unleash their creative potential. Network decisions made today will shape the opportunities available to the next generation, so it is vital that operators prioritize quality and reliability above short-term cost considerations.
This post is based on a presentation I gave at the recent Transform Africa Summit 2015 in Kigali, Rwanda. If you'd like to see the full slide deck, then you can download it here.