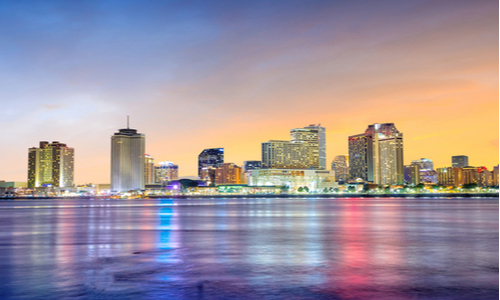 PPC Broadband is attending the Cable-Tec Expo 2019, the premier broadband event in America, taking place in New Orleans from September 30 to October 3.
Raising the bar for over 50 years, the event is an opportunity to hear the latest breakthroughs in cable and telecommunications, and connect with industry leaders.
PPC's booth (#701)- displays and product demos
Through strategic acquisitions and continued innovation, PPC has transformed from the leader in 'last mile' products to the new leader in xTTx® solutions for the headend, outside plant and customer premises. Our experienced team will be on hand at the booth to discuss our full range of products, including these exciting new additions:
PPC QuikPass™ Solution
The PPC QuikPass™ Solution is an FTTx product set that combines both functionality and form. The family of products provide a one-stop solution where every aspect of the build is considered. It's safety-tested to the highest standards, robust and simple to install, and provides the flexibility to use multiple approaches within the same building.
FutureLink® Enclosures
Our FutureLink® Enclosures are designed for use in MDU and SFU environments to support fiber and copper passive components as well as cable management. Constructed with a UV-stable, flame retardant thermoplastic, our enclosures can withstand harsh installation environments.
We'll also have demos of our new Ethernet Bridge, Hardline Cable and Reusable Cable Reel.
Plus, we'll be showcasing a number of our other products, including:
Headend Workstation
EDFA, LGX, Rackmount, Chassis, MDC RPHY and High Density Fiber Management Platform
Outside Plant Workstation
Passive Cassettes, OTDR, Node Cable, Hardline Connectors and Hardline Cable
Customer Premises Workstation
Miniflex® Products, Amplifiers, Household Splitters, MoCA Passives, Traps/Filters, House Boxes and Category Cable (reusable bag)
About the event
With thousands of industry professionals and hundreds of exhibiting companies across 60+ countries, it's sure to be an event packed full of learning and opportunities. Technology innovations will cover IoT (Internet of Things), machine learning, wireless access networks, virtualization and cloud, cyber security, and more. Plus, 45 world-class speakers will be covering some of the hottest topics in cable and telecommunications.
Among the featured speakers is tech author and Emmy award-winning television host David Pogue, who will be discussing how new technologies - including those at the heart of cable telecommunications' value proposition - are transforming the way we live and work. Other featured speakers include Preetha Vijayakumar, Vice President, Enterprise Network and Communication Services at FedEx, and Program Chair Thomas E. Adams, EVP, Field Operations at Charter Communications.
You can find out more about all the conference happenings on Cable-Tec Expo's official website.