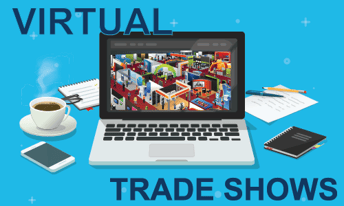 COVID-19 has derailed events around the world, including the many exhibitions and conferences PPC was slated to join in 2020.
However, event organizers have rallied and found an alternative means to host industry folks who typically attend these shows. While some events were pushed to 2021, a slew have transitioned to a virtual format and are taking place this fall.
PPC is participating in a number of these events that have shifted to a digital platform. Here we preview what you can expect if you visit our virtual booths at these upcoming shows, and how you can interact with us to learn more about the solutions we'll have on display.
International Virtual Events
We participated in a few international shows already and more to go this season: Connected Britain, Nigeria Com, West Africa Com and BREKO Fiberweek20.
Connected Britain was held September 23 to 25.
Nigeria Com took place on September 29.
West Africa Com is scheduled from September 30 to October 1.
BREKO Fiberweek20 is taking place virtually from Germany from October 12 to 16.
Our team was on hand at our virtual booths at Connected Britain, Nigeria Com and West Africa Com. During those shows we discussed with customers our aerial solutions for fiber-to-the-home (FTTH), multi-dwelling unit (MDU), and single-dwelling unit (SDU) last drops. PPC also featured materials guiding customers through our end-to-end solution approach, ranging from the central office through the outside plant (OSP) to the customer premises.

PPC's focus during BREKO Fiberweek will be our Miniflex® cable solutions and street cabinet portfolio. There, we'll emphasize with our customers our fiber management solutions capable of high levels of system integration, customizable to suit individual customer needs.
Fill out this form to request more details about our product portfolio and to schedule a meeting with us while you're attending BREKO Fiberweek20.
North American Virtual Events
PPC is also virtually participating in events in North America this fall, including SCTE Cable-Tec Expo and ISE Expo.
SCTE Cable-Tec Expo is taking place online from October 12 to 15. Click here to learn more information about this event and to request a meeting with us.
ISE Expo is being held virtually on November 10 and 11.
During SCTE Cable-Tec Expo and ISE Expo, our expert product teams will meet virtually with customers to discuss our new and innovative tech-friendly designs, our end-to-end fiber solutions, and all of our xTTx capabilities.
If you're interested in learning more about our product solutions, but can't attend any of the events listed above, submit your information in the forms previously linked to in this blog or contact our customer service team directly at customerservice@ppc-online.com.