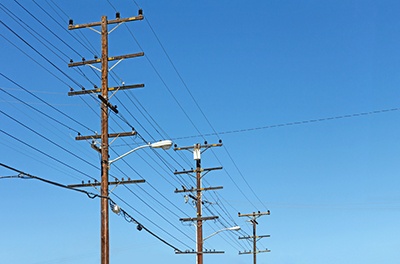 Over 80% of FTTH rollouts rely on aerial fiber deployments in some form. So, why should you choose aerial over buried implementations and what do you need to factor into your planning if the project is going to be a success? This blog provides an introduction to the topic, along with the questions you need to ask.
When it comes to new networks, planners are looking to balance speed of deployment and the cost and skills required with subscription take-up rates. Networks need to be reliable, but also have to be easy to update as demand changes and new technologies become available. This is obviously equally true of both aerial and buried deployments.
Why aerial?
Buried cable or fiber in-duct solutions have a major aesthetic advantage – once installed they are invisible, leaving no mark on the landscape. However, there are a number of reasons for choosing an aerial solution, including:
The ground may be undulating, rocky or both, making burying cable more difficult
Aerial cable is typically faster and less expensive to deploy than digging, particularly for backbone fiber
Environment challenges such as a lack of an underground telecoms duct network
For small network providers the capital expenditure of buying landscaping plant and owning or renting equipment can be prohibitive
All-Dielectric Self Supporting (ADSS) cables are now available and can be placed in much closer proximity to power transmission lines. This enables the re-use of existing poles, which helps reduce installation costs and speeds up deployments.
Download our eBook Practical FTTx approaches with aerial fiber cable and find out why aerial fiber cable provides a faster, more cost efficient option for FTTx deployment:
Essentially, the existing infrastructure (or lack of it) has a big impact on whether you choose aerial or buried deployments. But if you go down the aerial route, you need to get answers to these questions:
Are there accessible utility poles available?
Who owns the poles and what's the usage cost?
Is the cost one-off or annual, and what about maintenance/up keep?
If there are no poles, what does the local planning office say about installing new ones?
How does the environment (Ultraviolet radiation wind, ice etc.) help to narrow the selection of suitable cables?
What affects the aerial environment?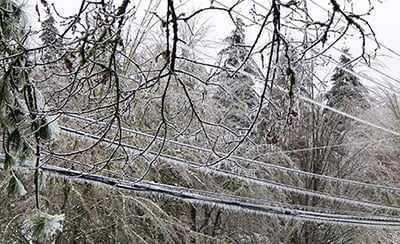 Once installed, aerial cables are impacted by the conditions of the environment they are in. Wind and ice loads, as well as seasonal temperature variations, cause the cable to expand and contract, applying variable forces on the fibers. Events, such as storms, can take place months or years after installation. Even the static fatigue of aerial cable is in marked contrast to buried/underground cables where the most severe load a cable is likely to experience is usually applied during installation. Three typical factors to consider are fiber strain, pole spans and cable sag.
To protect aerial deployments a stiffer design is therefore often adopted to minimize the fiber stress and strain under storm load conditions. It's worth noting that fiber strain as a measurement of elongation applies much more prevalently to tight-buffered deployments since the fibers are so well incorporated into the cable construction that they effectively become part of the total design.
Aerial fiber cable's increased mechanical requirements can also add limitations to its appearance. Incorporating tensile reinforcing rods often mean that the cable design is 'flat', or with a reinforcing element, separate to the cable sheath. This adds new challenges to fiber termination and supporting the cable. Thankfully, some manufacturers have incorporated the strength rods inside the sheath wall (jacket), allowing the cable to be suspended using standard 'round' dead-ends and supporting accessories. Cable designed with this feature is not prone to splitting; where the strength element becomes detached from the main sheath and the tensile integrity is compromised.
Choosing your components
To ensure a reliable, cost-effective and long-lasting design, network planners should ask and answer the following questions:
Is the cable design consistent across the network, and is the construction compatible?
Can I use the same tools and accessories across the topology or does the design change as the fiber count/type changes?
Does the cable meet the maximum span lengths required or will it require the installation of additional poles or wire for cable stranding?
Is the construction flexible enough to coil and store slack fiber?
Is the size and weight of the cable going to be accepted by a) the customer/subscriber b) the installers.
Does the cable design allow for mid-span and loop-through fiber access?
Will the design and parameters of the fiber cable meet the future requirements of the network?
Taking a broad overview, there are two distinct approaches to installation – either cable-in-duct (with blown or pushable fiber) or a ruggedized pre-fibered aerial cable, which can be tight buffered or made up of loose tubes. I'll return to the advantages and disadvantages of each of these in a future blog.
Aerial deployments are normally faster and cheaper than buried networks, hence their use is increasing. However careful planning and testing is essential if operators are to realize these advantages. The best option may even be to trial several product solutions until the right one has been identified. Taking into account key considerations such as the service life of the cable, the installation capabilities of the crews and the scale of the operation will help planners and designers to select the best solutions to ensure their aerial deployments deliver the advantages that operators are looking for.
Image 2 by: moose mama