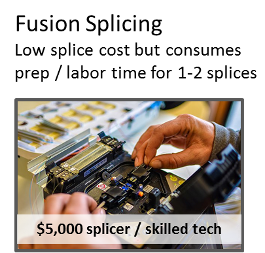 The relative costs involved in connecting subscribers to fiber networks can be deceptive. The critical element when evaluating fiber connections to make in the drops to the premises or even inside homes in an FTTX installation is not materials, but time.
Fiber splicing technicians have specialized training that makes them expensive when compared to someone simply plugging things in. 80% of costs for an FTTP deployment go to labor.
As it turns out, fusion splicing makes a lot of sense for trunk fibers and locations where there are anywhere from 48 to 192 fibers to splice. In the drop locations, where there may be only one or two splices at each location, the setup time for each location may negate any cost savings from fusion splicing.